There's many types of binary options available to trade: Touch options, No-Touch options, medium-term high-low options, and many others. Classic high-low binary options are offered by all brokers in the world, as far as I know. The thing is that the IQ Option broker, who is according to our poll the most popular broker, offers two types of classic options. Let's see what it's about.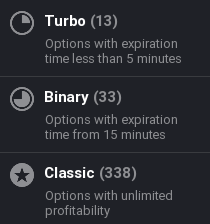 Yes, with IQ Option, it was always possible to trade the classic binary options. It's simple. You just choose your prediction – will the price fall or rise? The trade ends in a few minutes and then you know your profit or loss. The profit is usually around 85%, the loss is 100%. You can as well trade TURBO options, which are the same; the only difference is the expiration time, which is within seconds and not minutes or hours.
Why did we mention a new method of trading?
It is because IQ Options came up with even more classical options, than the classic ones. Or at least they are saying so.
Try trading with IQ Option on a free practice account

Broker
Info
Bonus
Open Account
USA Allowed

No


Assets:
Payout:

Up to 100 % (in case of correct prediction)!*


Demo Account:

Yes


Min Deposit:

$ 10

FREE DEMO ACCOUNT
Trade Now! Read Review
*in case of correct prediction
RISK WARNING: YOUR CAPITAL MIGHT BE AT RISK
New classic options by IQ Option
The newest type of options offered by IQ Option broker is very similar to buying shares. These classic options have a wide range of assets that can be traded and all of them are shares. Using these options you can't speculate on the rise of commodities, indexes or currency pairs. There are just shares, and you can choose from about 500 (when all major stock exchanges are open).
These options are traded similarly as the well-known ladder options. The difference is that the profit you can make is unlimited. Yes, unlimited. So you can get even a thousand times the value of your option. The possible loss is fixed and you have to set it in the beginning of your trade. The point is that you can make more than you can lose.
We simply open the trade in the direction that we think the price of the share is going to move. The expiration time is usually three days, but we can also make a profit by closing the trade before the expiration itself. The further the price moves in our direction, the greater the profit we will obtain at the time of expiration. We can get up to hundreds percent.
However these options are more complex, so we will publish another article about it in the future for sure. The most important point is that you can perfectly use fundamental analysis to trade IQ Option's classic options. That is mainly because of the unlimited profit we've mentioned before.
Is TESLA going to introduce a new model to the market, which was already pre-ordered like a thousand times? I assume that the stock price will therefore rise, right?
Official video by IQ Option

More Information about broker IQOption
Author