The IQ Option demo account (practice account generally) occupies a very important role in trading. Whether you are an experienced trader or a beginner who is still grappling with the demands of the business, the practice account helps you get a  better understanding of how the trades can be completed.
You can use the IQ Option free demo account instead risking your own, real money on IQ platform. Trading has its risks, and it's understandable if you want to be sure before you put your money on the table. As a matter of principle, you want to try out the platform, see how it works, and test a few strategies first before proceeding. But never forget that demo account can't replace real accounts, because trading psychology works completely different when trading with real money.
In short, you are not required to fund your IQOption trading account instantly and with real money. You can first try a platform and trading without any risk. That's good – Isn't it?
Broker
Bonus
Min Deposit
Payout
Review
Open Account



FREE DEMO ACCOUNT

$ 10
Up to 100 % !*
Review
Trade Now!
*in case of correct prediction
RISK WARNING: YOUR CAPITAL MIGHT BE AT RISK
If you want to be successful in the trading, you should master the steps, create a plan, and execute it accordingly. And if there are strategies that do not work, you should be able to learn from these mistakes. A demo account can never replace actual practice and experience that you will learn from real trading. If you want to be good at trading you should definitely know fundamental and technical analysis, because these are very basic strategies.
A demo account is available to every trader that made a registration. The "demo money" can be replenished as needed, so you don't need to worry about this. If you are looking to master the art of trading platform, like IQ Option and it's demo account, is definitely a good step ahead.
How to reload the IQ Option demo account?
As we said – The practice account is available to everyone for free. Each free demo account comes with a $10,000 credit which you can replenish at any time you want.
Here's how you can fund again your demo account with IQOption:
Log in to your account and click the 'Practice Account'. Now you will see the actual amount of practice money and money on your real account.
To deposit to your demo account you need to click to 'Top Up' at the practice account. See image below: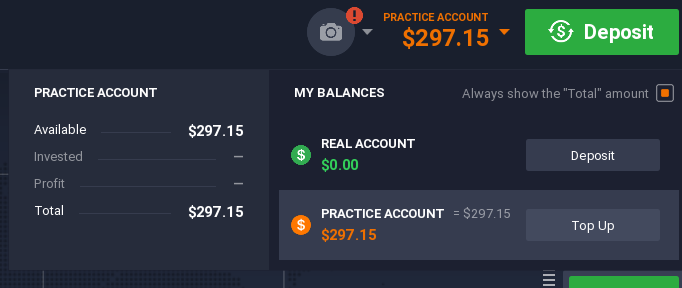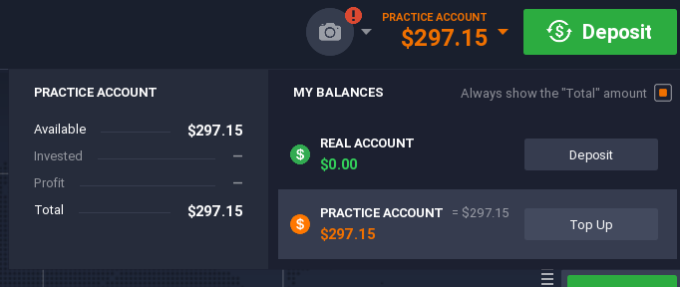 Make sure that your free demo account has less than $10,000 or you will not be able to top up the account, because $10,000 is the maximum. In case you need more credits, you can contact the Support Team for more assistance.
What are the differences between the free demo and real money account?
You can expect the same functionality and tools on both the free demo and the real money accounts. This means that you get similar quotes which will allow you to plan out a strategy and execute it with the free demo account risk-free.
In the practice account, you can also order the Take Profit and the Stop Loss orders, the same actions you can use in the real money account. So the practice account and real account are 100%. Only one difference is the money you are trading with. 
Can I collect my earnings from IQ Option demo account?
No. Although the free demo account allows you to execute a number of actions and strategies, there is no way you can somehow operate with this money. Since this is a practice account, the money that accumulates on the platform is not real thus cannot be withdrawn. The free demo account is just there to provide you with a platform to practice orders and your strategies.
Start trading with IQ Option today
Broker
Bonus
Min Deposit
Payout
Review
Open Account



FREE DEMO ACCOUNT

$ 10
Up to 100 % !*
Review
Trade Now!
*in case of correct prediction
RISK WARNING: YOUR CAPITAL MIGHT BE AT RISK
Author