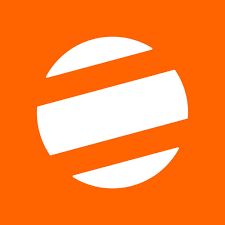 We are getting a lot of questions about how to deposit to IQ Option platform. You have many ways how to do that, credit card, e-wallets, wire transfer and other methods (list of all of them you will find in our IQ Option review), today we will talk about one of the e-wallets – Jeton Wallet.
If you are from India, then you can now use your Jeton Wallet to fund your IQ Option account.  Jeton is highly trusted and secured E-wallet that is offering its services all around the world.
This E-wallet is great, however, working with Jeton Wallet can be complicated. So we decided to prepare for you this article, which is a step-by-step guide on how to use this payment system. So you don't need to worry – we will explain all. Let's start!
What is Jeton and how it works?
Jeton is an e-wallet, that you can fill up with your money. Then you can use it to deposit funds to various brokers such as iqoption or Olymp Trade. First, you send money to jeton, for example via your bank account) and then you send it to IQ option platform – fast and simple! Then, you can use jeton in order to withdraw money from a broker back to your bank account.
Jeton wallet registration
First, you need to do before we start is to register with Jeton wallet, you can do it here – Jeton wallet registration. It's a matter of a couple minutes.
Keep in mind that you do not need to be verified to start depositing – Verification is essential for sent/withdraw. However, you are free to deposit, exchange and pay money from site to your e-wallet account, and can do so immediately upon signing up. But if you want to increase your transaction limits, or withdraw money, you need to verify your account first.
Verification requirements these documents:
Information: telephone number, e-mail address, residential address
Identification: a form of valid government-issued identification with a picture; i.e. passport, national ID card, driving license, residency card, employment permit card, etc.
Proof of Address: a statement not older than 3 months from a utility, service company, licensed corporation or government authority clearly indicating your name and residential address.
Document verification process usually takes 12 hours, but sometimes it's a matter of a few hours. That's it! Let's now have a look at the deposit process.
How to deposit money to your Jeton Wallet via Local Banks?
Before we will deposit to IQ Option's trading platform, you need to charge your Jeton wallet account, because you need to have your funds ready.
So let's follow the following steps below.  We count that you already did a registration to Jeton Wallet and now you are logged in.
Log in the Jeton and in your account go to the 'Wallet' tab and push 'Deposit'.
Then choose the best option for your of the available options for depositing.
Specify the amount of money you want to deposit and fill in all relevant information and choose the bank (in case you are depositing via the bank) you want to use for depositing and again fill in all the relevant information.
Complete the transaction
Now, when the transaction is completed and sent, you can check the transaction status in the 'Transactions' tab of your Jeton personal account.
Registration and funding your Jeton Wallet account is complete. Now, everything is ready! Let's go to IQ Option platform.
IQ Option deposit via Jeton Wallet
When the registration process is complete, go to IQ Option platform click "deposit and follow these steps: 
1. From the drop-down menu in iqoption platform, choose Jeton Wallet as your preferred payment method: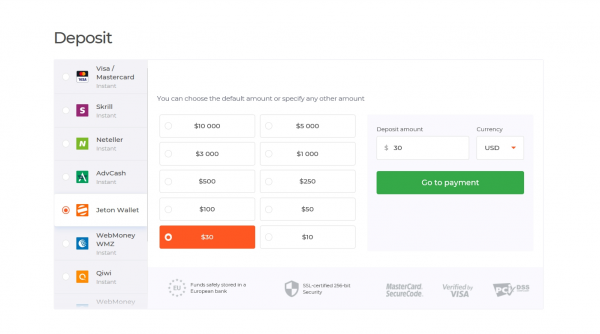 2. Provide your Jeton ID assigned to you by the system. Your Jeton ID is unique to you and should be used for all transactions: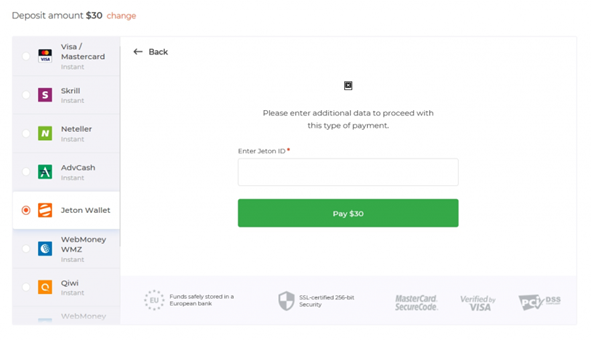 Now you will just confirm the deposit and you will have your money in the IQOption account! Good job. Deposit is complete! Once you have completed the registration process, you can now select Jeton Wallet from the list of options on the IQ Option deposit page. And as a member of the platform, you can simply provide your Jeton ID to deposit funds.
Now – if you want to do it real, you can register to iqoption here.
A list of banks you can use with IQ Option:
Pay in: YES Bank, ICICI Bank.
Pay out: Axis Bank, Bandhan Bank, Catholic Syrian Bank, City Union Bank, DCB Bank, Federal Bank, HDFC Bank, ICICI Bank, IndusInd Bank, IDFC Bank, Jammu and Kashmir Bank, Karnataka Bank, Karur Vysya Bank, Kotak Mahindra Bank, Lakshmi Vilas Bank, RBL Bank, South Indian Bank, Tamilnad Mercantile Bank Limited, YES Bank, Janalakshmi Small Finance Bank, Allahabad Bank, Andhra Bank, Bank of Baroda, Bank of India, Bank of Maharashtra, Canara Bank, Central Bank of India, Corporation Bank, Dena Bank, Indian Bank, Indian Overseas Bank, IDBI Bank, Oriental Bank of Commerce, Punjab and Sind Bank, Punjab National Bank, State Bank of India, Syndicate Bank, UCO Bank, Union Bankof India, United Bank of India, Vijaya Bank.
That's it. It may seem a little bit complicated, but it's not. We hope that this article will help you to make your deposit process much easier! If you have any questions regarding this article, let us know and we will help you. Good luck.
Author