TopOption – Broker shut down!

No US or Canadian customers allowed to register
Platform can be slow at times
Not recommended to use anymore
TopOption used to be very popular not only on the European market but also in the Czech Republic, Slovakia, and Poland. This is mainly due to its licensing and registrations in Europe and also due to its Multilanguage support (more than 20 languages supported). TopOption is a web based binary platform with quick easy set-up, as there is no download. It has been established since 2008. You can also use their platform on your iOS or an Android based cell phone.
2017 WARNING: Lately we have seen a lot of cases that should not have happened. Some of them you can see below in comments, but I also have more information from e-mails of concerned trades. Please read this updated review.
TopOption experience
Under markets.com leadership, TopOption quickly got to the top amongst other brokers as it brought a high quality platform to binary option trading world just like markets.com once did for forex. Amongst downsides is that TopOption does not accept U.S. residents as clients, even though they accept many countries and have a big variety of translations.
Unfortunately, this paragraph is no longer valid. They used to be the top broker for middle-europeans several years ago, but not anymore. Newer brokers overpassed obsolete Topoption very quickly. See comments below and find out why.
TopOption platform
This broker is based on a platform which used to be offered by many more brokers such as winner option (later renamed to 24winner and cancelled afterwards) or Option Time (cancelled also). All the other brokers working on this platform were acquired by TopOption and now is the sole provider of the platform.
Their platform is lightweight and offers diverse types of trades such as classic high-low binary options, 60-second options, touch and no touch options. The only issue I registered was that early in 2015, before migration to the new platform, options sometimes did not expire on time. That would sometimes cause that 60-second binary options ended out-of-money.
TopOption broker has changed its platform three times during the past 2 years. But not just that. Even the management of the company has changed 3 times. There have been countless changes in terms and conditions and a lot of irregularities.
It is true that we used to recommended this broker before, because we believed that it was just a misunderstanding. Unfortunately it seems it was not what we thought. Read the comments of real traders under the review and tell us your opinion as well.
Their platform also offers features and tools called Roll Over, Double Up, and Buy Me Out.
What is Rollover: For a 30% increase in your investment you can postpone the trade expiry by 15 to 30 minutes.
What is Double Up: Feel confident in your choice and think the market will continue to go your way? Then double up mid-trade. Trust in the trend and maximize your earning potential by doubling up on your investment. This creates a second trade in the same direction, with the same expiry time, although at the current price, instead of the initial strike price.
What is Buy Me Out: Minimize your risk and activate the Buy Me Out feature for a mid-trade buy-out. Up until one hour prior to expiry, the Buy Me Out feature offers you an easy exit.
Source: topoption.com
Topoption Demo Account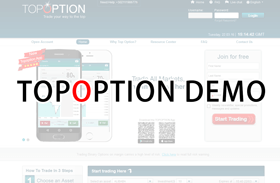 Do you want to try trading with TopOption without risking your money? Then their demo account is a great place to start. TopOption does not offer demo account by default, but you can get access to their demo account after depositing at least $ 200 and contacting the customer support.
Customer support service operator will configure your demo account and afterwards, upon login, you will have a choice of either real account or demo account. In case you do not want to tie your funds right away, you may withdraw your funds right after registration and opening the demo account.
Withdrawals of funds to your bank account usually take around 3 business days. Therefore, you can get the topoption demo account access completely free.
Topoption Customer Support
Customer support live chat staff is more than friendly not only in English but also in any language you might be interested in using. They work with 20 languages and counting, which is another reason why you should start trading with topoption.
Unfortunately this is not true anymore. I was a witness of how the customer support urged traders and how, by using various manipulative techniques, they were trying to get the customer to deposit more than they would have. I think that a good customer support should not behave this way.
Topoption Account Types
TopOption offers different account types according to the size of your initial deposit. Initial deposits in the range $ 100 – $ 1000 get STARTER account. Range $ 1 000 – $ 5 000 gets PRO account and initial deposits higher than $ 5 000 get VIP account. The main difference is the level of support you get from your account manager. There's also a big difference in bonus sizes, that go up to $ 2 500.
It is very interesting that in 2013 TopOption won the Best Licenced Broker award on the FBO Awards Ceremony, and is the only trading broker that allows deposits with PayPal. However, only in some countries.
The starter account includes: 0 fees and commissions charged, Minimum deposit of $100, you get an account manager, mobile and web platforms, risk management tools, a starter guide ebook series, introduction of 1 on 1 training, access to e-video library, newsroom research, alerts and updates, and investor compensation fund.
The Pro account includes: 0 fees and commissions charged, minimum deposit of $1000, you get an professional account manager, mobile and web platforms, risk management tools, a starter guide ebook series and advance guides, 3 hours of 1 on 1 training, access to e-video library, newsroom research, alerts and updates, and investor compensation fund.
The VIP account includes: 0 fees and commissions charged, Minimum deposit of $5000, you get an specialist account manager, mobile and web platforms, risk management tools, a starter guide and advanced ebook series, unlimited 1 on 1 training, access to e-video library, newsroom research, alerts and updates, off trading hours assistance, trading central report and SMS signals, and investor compensation fund.
The case of a scammed Czech trader!
One of the traders (I can't name names) who used TopOption for his trading has earned some really good money. With his initial deposit of €100, he made a profit of €11,670. I think that this is a great success and for sure a great feeling. However, something happened that no one had expected.
From one day to the other the trader lost all his money. The broker simply did not want to pay that much money out and they decided to intervene and close the trader's account. They just unexpectedly deleted all the money from the trader's account. Including his original deposit of €100!
The broker (or their representatives) told the trader that he earned all that money by a mistake because of a system error. He is not allowed to share the information about what happened and for any case they closed his account, so he can't trade anymore. The trader informed me, that he is going to ask for help the Czech National Bank, which unfortunately has not released any statement yet.
We can take one valuable lesson from this which I already follow. Always withdraw your earnings. Do it at least once a week or at most once a month. If suddenly your broker denies paying you your earnings, you are going to realize it immediately and you are going to have at least something in the bank already.
So what other broker is recommended to use?
It is true that we used to recommend TopOption broker as the best choice (it was a long time ago). As the time passed, we've gradually moved this broker to the lower positions. It was mainly because there were new brokers with better offers.
To which broker is it possible to entrust your money without being afraid? Check out our comparison of all brokers. I suggest you to choose one of the first three brokers. You can find the tips on what broker to choose here: https://xbinop.com/binary-options-brokers/ and these are the three best options.
Broker
Bonus
Min Deposit
Minimum Trade Amount
Payout
Demo
US Traders Allowed
Review
Open Account
$10 BONUS
$ 100
*
Review
Trade Now!
Great social trading platform
200 USD
25 USD
*
Review
Trade Now!
FREE DEMO ACCOUNT
$ 10
$ 1
Up to 100 % (in case of correct prediction)!*
Review
Trade Now!
*in case of correct prediction
RISK WARNING: YOUR CAPITAL MIGHT BE AT RISK
TopOption Pros

Low minimum deposit requirement to start trading ($100)

TopOption Cons

No US or Canadian customers allowed to register
Platform can be slow at times
Not recommended to use anymore
TopOption - Review author
TopOption Details
| | |
| --- | --- |
| ✅ Broker | TopOption |
| ✅ Website URL | https://topoption.com |
| ✅ Founded | 2011 |
| ✅ Headquarters | Cyprus |
| ✅ Support Number | [email protected] |
| ✅ Support Types | Email, Live chat, Telefon, Fax |
| ✅ Languages | English, Spanish, French, German, Italian, Swedish, Russian, Dutch, Japanese, Arabic, Romainian, Portuguese, Norwegian, Chinese, Polish |
| ✅ Trading Platform | SpotOption |
| ✅ Minimum 1st Deposit | $100 |
| ✅ Minimum Trade Amount | $10 |
| ✅ Maximum Trade Amount | $10.000 |
| ✅ Bonus | Up to 150% Bonus |
| ✅ Payout | Up to 85%* |
| ✅ Free Demo Account | |
| ✅ Regulated | |
| ✅ Regulation | CySec, FCA, BDF, CONSOB, CNMV, AFM, BaFin, FI, FSA, NBS, ČNB |
| ✅ Account Types | Standard, PRO, VIP |
| ✅ Deposit Methods | Visa, Mastercard, Visa Electron, Maestro, Wire transfer, Skrill, American Express, Delta, WebMoney, Neteller |
| ✅ Withdrawal Methods | Visa, Mastercard, Visa Electron, Maestro, Wire transfer, Skrill, American Express, Delta, WebMoney, Neteller |
| ✅ Trading Methods | High / Low, One Touch, 60seconds, Long Term, Option Builder, Meta Charts, Pair Options |
| ✅ Number of Assets | 180 |
| ✅ Expiry Times | 60 sec, 15 min, 30 min, 1 hour, 24 hour, End of Day |
| ✅ Types of Assets | Currencies, Stocks, Indices, Commodities |
| ✅ Option Types | Classic Options, 60 Seconds, One Touch, Option Builder, Pro Option |
| ✅ Trading Currency | USD, EUR, GBP, CAD, YEN, PLN |
| ✅ Account Currency | USD, EUR, GBP, CAD, YEN, PLN |
| ✅ US Traders Allowed | |
| ✅ Mobile Trading | |
| ✅ Tablet Trading | |
| ✅ Overall Score | We don't recommend trading with this broker. |
Show recommended brokers