Technical Analysis Show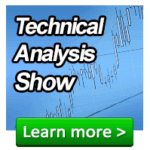 In this category, you'll find a handful of articles talking about technical analysis of graphs. We will show you everything, starting with the basics – trendlines and support and resistence trading. In the end, you'll be able to pick the best moment to open a trade and hopefully – make plenty of money. Thanks to technical analysis, any binary trader can become profitable.
Good luck with analyzing charts!
Articles about Technical Analysis Show