24Option – Honest Broker Review

Minimum deposit $250
Not wire transfer friendly, biased toward other forms of deposit
UI Trading platform not terribly polished
Demo account available only after deposit
The broker 24Option was founded as a binary options broker in 2010 and was one of the first online binary options brokers. Now it's not only binary options that can be traded through their modern platform.  24Option is a broker registered under CySec, which is the Cyprus Securities and Exchange Commission,  the most important regulatory authority in Europe. It is one of the biggest and well-respected members of the binary options broker community.
There's over a million visitors on their platform each month, which makes it one of the biggest brokers in the world. However, not everyone out of the million actually trades with them. On the other hand, there's more than 17 million trading accounts at IQ Option.
24Option Platform
24Option is a broker running on Tech Financials platform. I personally used not to like the platform's look, because it was to me a bit confusing. However, in the beginning of the year 2017, their platform went through a series of changes. Now, it looks better and they offer even more types of trading.
24Option offers trading with a wide variety of binary options beginning with 30 seconds options (soon to be discontinued). 30-second binary options are not worth it in my opinion, because with a standard account, the return on is only 67 %, which is nothing compared to 82 % offered on 15-minute trades.
Other than that, with the new platform, they even offer CFD trading and Spread binary options. What is the difference between CFD trading and binary options? Have a look here: (CFD Trading (forex) vs binary options)
However, with those changes, the possibility of trading one touch options and boundary options has disappeared. Unfortunately.
What are Boundary Binary Options?

When trading Boundary options, the trader speculates whether the asset's price will end within a specified range, or not. Simply if you predict big market movements, be it up or down, you want to invest on OUT. Is the price stagnating and there is no trend to be found? Invest on IN. Boundary options can not be traded with 24option anymore.

24Option Demo Account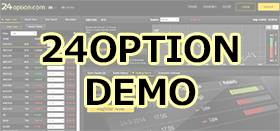 There is a demo account available, but you must open a live trading account first by placing an actual deposit. After you've done this, they will supply you, if you wish, with a second account with which you are free to practice trading with zero consequences. 24Option is regulated by CySec and works under EU law.
It is good to try out trading with a demo account before you trade with real money. If you do not wish to deposit money prior to testing trading on a demo account, you can open our demo platform completely for free with no registration needed.
Account Types:
Account types range from your typical Standard to the more premium availabilities: Beginner, Gold, Expert, and Diamond. Nothing much to note here other than that they're your standard perk upgrade system.
Deposit and trading
The minimum amount of coinage one has to have available to make a deposit into one's account is set at 250 currency units. These can either be in USD or EUR, GBP, the yen or the ruble. One caveat should be mentioned though here: at 24Option, the minimum deposit amount differs with how you bring about the deposit. The previously mentioned lower limit of 250 currency units applies only to deposits made by either credit card or an electronic form of payment.
Should you wish to make a deposit via a wire transfer, your lower limit rises to 1000 currency units. The total amount of methods you may use to either deposit or withdraw your money, includes credit cards, electronic transactions agents such as Skrill, then there is ,of course, the wire transfer, and lastly they also accept Western Union. Cash deposits, of course, are not able to be done.
The minimum amount of currency units for opening a trade is 24. The kind of assets 24Option offers for trade are currencies, commodities, stocks and indices. All together, they number just over 100 assets. Payouts are tied to what kind of membership one has, for instance: the Standard comes back around 83% and so does the Beginner.
The Gold account type offers a return of 85% while the upper-tier Expert and Diamond accounts return 87% and 89% respectively. Expiry dates also range from 30 seconds, 60 seconds, 2 minutes, 5 minutes, 15 minutes, 30 minutes, 1 hour to 24 hours. This again shows where 24Option's preferences, or indeed, perhaps strengths lie in catering to those who prefer the short game (but potentially shunning those traders who are in it for the longer run).
Languages:
Languages currently supported are English (reminder: their trading platform is not friendly to US traders) and many more languages. It surpasses that of close competitor Stockpair.
It is clear that 24Option has a larger interest in non-Western consumer markets. It even caters to devout Muslims, providing a "100% halal" way to still be able to run the binary options roulette. Thus looking at Stockpair's language availabilities, reveals a more Eurocentric interest.
However it is to be noted that the support of Dutch is a very rare thing indeed in the land of binary options brokering, and Stockpair has it. While most speakers of the language, primarily in Belgium and the Netherlands, have a competent grasp of English, perhaps this means a shift of this particular market towards Stockpair's benefit. That being said, the larger variety of user languages available might overshadow Stockpair's potential in this particular area. After all, 24Option theoretically has the advantage of a larger playing field, so to speak. And a very populous one at that.
The types of trading one can take on at 24Option are High/Low, One Touch, Boundary and 60 Second Options. Following, one can conclude that 24Option is geared more towards providing a variety of ways to incite the instant sense of satisfaction, or to traders who just simply prefer the short game.
Download BERSI Strategy for free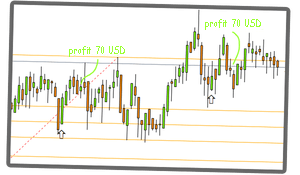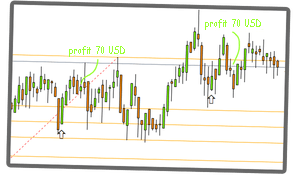 If you're ready to open an account with this broker and trade with them, don't forget to download the BERSI Scalp strategy for free. This strategy is very successful, as you can see on the image on the right. Click it to make it bigger.
Thanks to this strategy, you can finally become a successful trader. And if you don't like the strategy at all? Don't worry, just don't use it. You don't have to. But why not try, if you can have it for free? 😉 Many traders around the globe are using it already. What are they saying about it? Read more here: The results and the impressions of the traders

Relevant articles about 24Option
24option Pros

Mobile Platform
Innovative user friendly platform
EU CySEC Regulated binary options broker
Articles and financial news
30 & 60 Second Binary Options Trading
Large selection of languages
Good and well-known reputation
Good variety in types of trading and assets Decent pay outs

24option Cons

Minimum deposit $250
Not wire transfer friendly, biased toward other forms of deposit
UI Trading platform not terribly polished
Demo account available only after deposit
24option - Review author
24option Details
| | |
| --- | --- |
| ✅ Broker | 24option |
| ✅ Website URL | https://www.24option.com/ |
| ✅ Founded | 2009 |
| ✅ Headquarters | London |
| ✅ Support Number | [email protected] |
| ✅ Support Types | 24/7 customer support including, Email, Live chat, Fax |
| ✅ Languages | English, Dutch, Latvian, Russian, Danish, Chinese, Swedish, Korean, Indonesian, Italian, Turkish, Japanese, Romanian, Spanish, French, German, Arabic, Portuguese |
| ✅ Trading Platform | Tech Financials |
| ✅ Minimum 1st Deposit | $250 |
| ✅ Minimum Trade Amount | $24 |
| ✅ Maximum Trade Amount | $100,000 |
| ✅ Bonus | 100% profit spread options |
| ✅ Payout | Up to 100%* |
| ✅ Free Demo Account | |
| ✅ Regulated | |
| ✅ Regulation | CySec |
| ✅ Account Types | Platinum Account, Gold Account, Standard Account |
| ✅ Deposit Methods | Visa, Mastercard, Wire Transfe, Western Union, CashU Liberty Reserve, Skrill(MoneyBookers) |
| ✅ Withdrawal Methods | Credit Card, Electronic Payment, Wire Transfer, Skrill |
| ✅ Trading Methods | High/Low, Above/Below, Touch/No Touch, High Yield Touch, Boundary, High Yield Boundary, 60 Second |
| ✅ Number of Assets | 110 |
| ✅ Expiry Times | 30sec, 60sec, 2min, 5min, 15min, 30min, 1hr, 24hr, 1 week |
| ✅ Types of Assets | Commodities, Currencies, Stocks, Indices |
| ✅ Option Types | High/Low, One Touch, Boundary, 60 second options |
| ✅ Trading Currency | GBP, CHF, USD, EUR |
| ✅ Account Currency | USD, EUR, GB, JPY, CHF, RUB |
| ✅ US Traders Allowed | |
| ✅ Mobile Trading | |
| ✅ Tablet Trading | |
| ✅ Overall Score | |
Show recommended brokers