Binomo Review – Is it SCAM or LEGIT trading platform?

Nice and quick platform
Free demo to try the platform
Min deposit is only $ 10
Binomo is a well-known trading platform. If you are interested to use this platform, it's highly recommended that you should know a few things about its background and the tools available. In this complete review of the trading platform, we take a look at the different tools and functionality available on the platform.
At first glance, the Binomo trading platforms focus on technology. As a user, you can take advantage of the up and down movement of an underlying asset. This is indicated on the website when it explains that Binomo is primarily designed for traders who are willing to take advantage of the price movements of currencies, shares, and commodities.
Binomo is packaged for all types of traders and customers looking for access to helpful trading tools. And the way the website is designed and presented, traders will easily get the idea that the Binomo platform features the right set of tools that can help promote a streamlined trading experience.
What to Expect from the Binomo Platform
Binomo currently supports a web trading platform and a mobile app. When using the web platform, you gain access to more than 60+ underlying assets (depending on your account type). It works 24/7, which means that you have time to invest and trade using a variety of assets including cryptocurrencies.
Don't worry if you are a beginner in trading. Just like other platforms, Binomo offers video tutorials and training resources that can help all traders. And if you have questions regarding the tools and services, you can also contact Support for help.
Design-wise, the trading platform is unique and has been programmed by a broker. The platform is easy to navigate and users and customize the experience. There are different kinds of charts, tools, and indicators that can be used for technical analysis. Based on these tools, charts, and analysis, a trader can offer a forecast ad earn profits.
One of the main advantages of the trading platform is its faster trade execution. Traders will not experience lag or connection issues that are common in other platforms. In short, Binomo allows you to enjoy a flexible and smooth trading process. On the right part of the screen, you will find a trading dashboard where you can execute trades.
The trading area is structured and there 'hotkeys' which you can use to complete trading. On the left side of the screen, you get access to various options. Here, you can check your trading history, learn a few strategies, or check out the news calendar.
On the upper side of the screen, you can choose which asset to trade. When using this platform, you can use more than one chart. And switching from one chart to the next using a different strategy is easy.
In short, the Binomo trading platform is easy to use. You will find several trading tools and functionality which you can use to create profitable trades.
Important Features of Binomo:
Use different charts
Features more than 14 indicators
Trade more than 60+ assets
User-friendly and flexible
Web app and mobile trading available
Fast trade execution
Easy to customize trading platform
How to Invest in Binomo Trading Platform
With Binomo, you can make a trade based on the movement of the markets over some time. You can select the time of the expiry of the trade and choose short or long. After the expiry, the trade closes and you can expect a high payout or forfeit the investment amount.
The trading platform also allows you to predict the asset's price movement and invest in the direction that you expect. There's no need to worry about the degree of movement; the important thing is to know if the final price is above or below the entry point to collect a profit. Here, the profit is defined by your chosen asset. Your risk in trading is the amount you have an investment. You can only lose what you have investment and you can collect a fixed profit.
The Binomo Trading Demo Account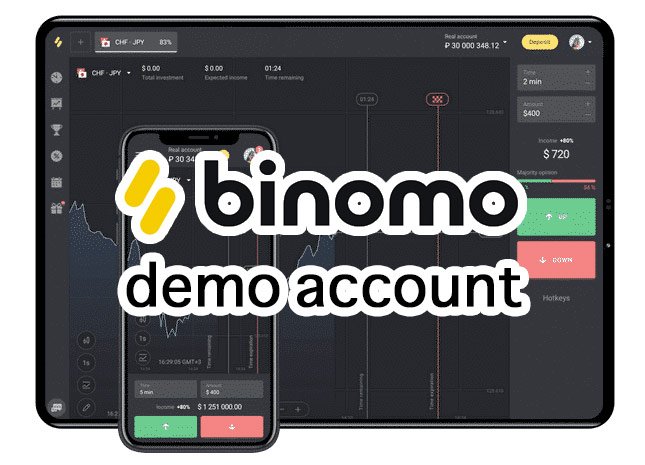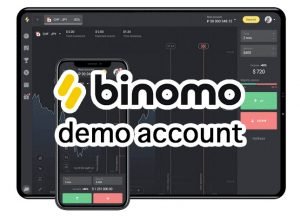 You can also try the Binomo Demo Account to test the platform for free. When you sign up for a free demo, your account will be credited with $1,000 in virtual money which you can use to test some traders and strategies. You can use the demo account for an unlimited time, which means that you can top-up the account when you want it.
You need a Google or Facebook account to open a free demo account. If you don't have any of them or don't want to use them, you can provide your email and password to create an account.
Traders from the United States are not allowed to create an account.
If you are interested to open a free demo account, simply click this link. You can use the demo to know if Binomo is a perfect fit for you.
Deposit and Withdrawal
Binomo offers friendly cashier services for its traders. When we check the FAQ section of the trading platform, we noted the presence of several accepted payment options. Traders of this platform can choose from cards, e-wallets and bank transfers. Most of deposits are credited instantly which will allow you to enjoy trading instantly.
The minimum amount that you can withdraw here is $10. You can only withdraw your funds using the payment processor where you have completed the deposit. Withdrawal requests can take up to 3 working days. When withdrawing funds and taking the bonus, you must comply with the bonus conditions. Failure to comply with these conditions will invalidate the bonus.
Trading Bonus and Conditions
This trading platform offers several bonuses for traders. The most popular is the first deposit bonus which allows you to trade without risking investments. Make sure you read the conditions before activating the bonus.
Here's an example:
Say you deposit $5,000 and comes with money management of 1% each trade.
The agreed investment amount is $50. If you collect a 100% bonus, your balance becomes $10,000.
Now, you start trading spending $100 in every trade with a money management fee of 1%. In this arrangement, the bonus will give you more chances to grow your account.
Although the bonus can boost your account, keep in mind that it comes with certain conditions. For example,  you need to complete a lot of trades before you can withdraw your funds.
Is Binomo Safe and Regulated?
This is a common question asked by traders. Yes, Binomo is licensed and regulated by the International Financial Commission (IFC) since May 2018.
This means that Binomo is a safe and reliable platform for trading.
As part of its regulations, the trading platform is grouped in Category 'A'. This is the highest level possible which means traders can enjoy only the best services possible. When you sign up for an account, your funds are protected up to €20,000.
Terms and Conditions
Pay attention to its Terms and Conditions if you want to sign up for its trading services. The platform features a client agreement that explains the conditions and rules attached to the use of the platform. Make sure to read this client agreement before starting your trades. You will notice that the first line of the agreement indicates that Binomo is a part of Dolphin Corp (a company incorporated under the laws of Saint Vincent and the Grenadines). The client agreement will also cover disputes relating to trading and risks.
Although the company welcomes a growing number of countries, Binomo also boasts a few country restrictions. For example, traders from Canada, the USA, and the European Union are not allowed to create accounts. The platform also supports more than 20 languages including Thai, English, and Indian
Types of Binomo Accounts
You can choose from 4 different types of accounts available on this platform: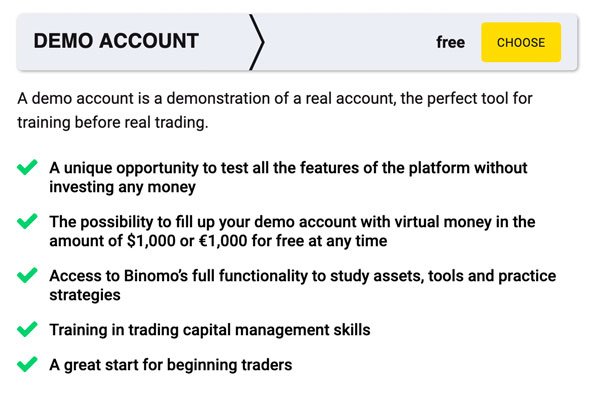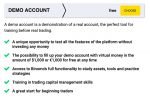 The most basic option is one that features a demo account. The great thing about the demo account is that it allows you to test some strategies without risky investments.
The demo account is free to use and comes with a virtual fund worth $1,000. We highly recommend that you check out first the free demo account to see if Binomo is the right fit for you.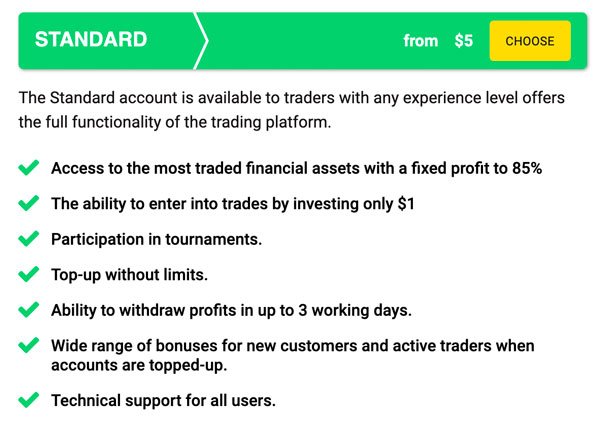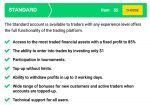 Another option available to traders is the Standard option. According to the website, the Standard option comes with full tools and functionality.
This comes with a profit of 85% and a minimum trading amount of $1. This option also allows the traders to participate in tournaments and withdraw funds within 3 days.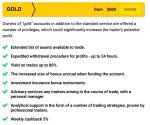 Another option available for you is the Gold account that starts at $500.
This account promises fast withdrawals of up to 3 days (depending on withdrawal method), yields of up to 90% in case of correct forecast and insurance bonuses. It has a profit of up to 90% in case of correct forecast.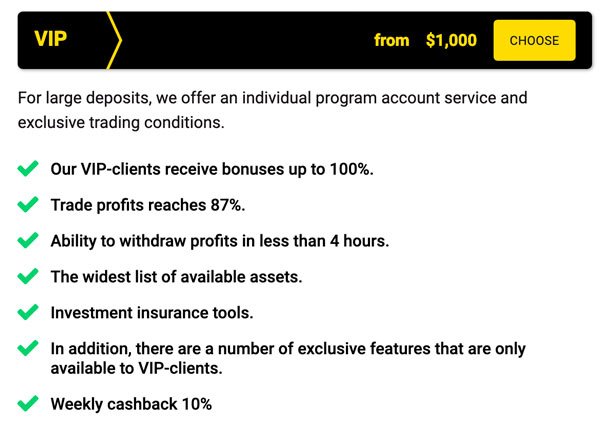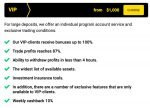 Finally, you can also take advantage of the VIP account which is assigned to you as soon as all your deposits combine to $1,000. This platform is recommended for traders who plan to deposit huge sums of cash and looking for exclusive services and trading conditions.
When you sign up for VIP account, you can enjoy a bonus of up to 200% , earnings of up to 90% in case of correct forecast and the possibility of withdrawals in four hours (depends on withdrawal method). In addition, VIP account holders can enjoy a 10% cashback.
Our Experience in Using the Binomo Platform
Binomo features all the products that every trader needs to start the trading experience and collect sizeable profits. Although the platform has a free demo and appears to offer the right set of trading tools, there are still a few things missing.
Overall, Binomo.com covers all the basic requirements when it comes to the trading platform. But if you an advanced trader and wants more, then you will find the platform as insufficient.
Have you tried using the platform? If yes, then we invite you to leave a comment and let the other traders learn more about your thoughts and experience. And if you have some questions, please don't hesitate to leave it here.
On a personal note, I think that Binomo is a capable trading platform. In this comprehensive review, I included the features and advantages of the platform. Based on my hands-on experience, I can say that this is not a scam. You can try the platform in a free demo first before investing your money.
More info about Binomo
Binomo Pros

Nice and quick platform
Free demo to try the platform
Min deposit is only $ 10

Binomo Cons

Only english and russian support
Binomo - Review author
Binomo Details
| | |
| --- | --- |
| ✅ Broker | Binomo |
| ✅ Website URL | https://binomo.com |
| ✅ Founded | 2014 |
| ✅ Headquarters | Tiburon, Seychelles |
| ✅ Support Types | Email support, Online live chat |
| ✅ Languages | English, Indian, Bahasa indonesia, Thai, Spanish |
| ✅ Trading Platform | Custom made platform |
| ✅ Minimum 1st Deposit | $ 10 |
| ✅ Minimum Trade Amount | $ 1 |
| ✅ Maximum Trade Amount | $ 10 000 |
| ✅ Bonus | FREE DEMO AND LOW MIN DEPOSIT |
| ✅ Payout | Up to 90 %!* |
| ✅ Free Demo Account | |
| ✅ Regulated | |
| ✅ Deposit Methods | Credit Card, Wire Transfer, Skrill, Neteller, Cryptocurrencies |
| ✅ Withdrawal Methods | Credit Card, Wire Transfer, Skrill, Neteller, Cryptocurrencies |
| ✅ US Traders Allowed | |
| ✅ Mobile Trading | |
| ✅ Tablet Trading | |
| ✅ Overall Score | 4.8 / 5 |
Open Account!