I've found a very brief, but very true article online. I can not remember where I found it, but here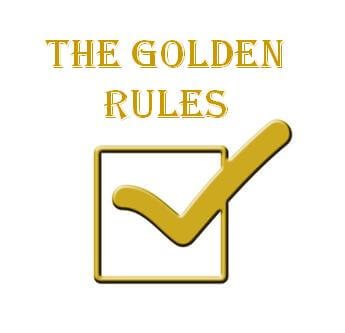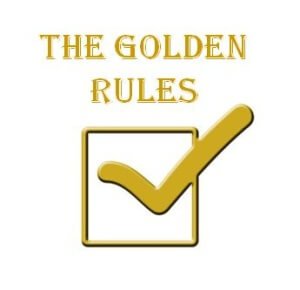 it is. It talks about 10 rules that were written for stock market trading, which is not too different from binary option trading, so we can use these rules and apply them for our options trading.
An excerpt from this eBook:
WHEN IN DOUBT, STAY OUT

Just because the Forex market is online twenty-four hours a day does not mean that you have to trade all that time. If you are doubtful, do not trade at all. Instead, analyse the market and use the knowledge you get to make more profitable trades in the future.
10 Golden Rules eBook
The truth about Forex is that it's a very intense and stressful activity that requires a complete control of emotions. Forex is merely an unrealized idea of "get-rich-quick". Learning to trade Forex will require patience. Mastering the basics will, of course, require some time. Those not disciplined enough and impulsive will soon find themselves "loosing one's shirt". Those of you, that don't follow the basic investment principles or those that can't control their emotions, will soon find themselves loosing their investments. However, those of you who will follow the given investment principles will benefit greatly on the most variable and liquid markets. 100% return on investment within couple of days,won't be anything extraordinary and actually 1000% return wouldn't really surprise an experienced trader. It is well-known that Forex has become the most popular way of investment. As with any other company, even Forex has its own rules. Learn Forex, strive for success and make wise decisions. Our small book will introduce you to the 10 golden rules on Forex trading that every beginner should follow, if he wants to succeed.
The market is always changing and these changes are sometimes really hard to follow. For the start, it is not a bad thing to use these changes for your own good, until you won't be thoroughly prepared to trade on Forex.
There are a lot of novice traders that trade in various directions. You have a great chance to make a profit on both upside or the downside of the trade. Trading in the direction of the trends give you a chance to make the best trades and increase your chances to win.
Set up a demo account to thoroughly understand the Forex trading. Using the demo account will give you a chance to try how the real trading works and will also prepare you for it. On the other hand, it wouldn't be a bad thing to stay realistic and always remember that using your demo fund require the same caution as operating the real funds. Otherwise trading on the demo account doesn't have any point.
There are a lot of companies making various programs aimed at predicting future trends. However the question is, if this program would really work, why would these companies share it? These kind of an opportunity or a secret is not normally publicly shared, is it?!
Trading requires a lot of nerve and you'll come across a lot of obstacles that will set you back to the beginning. The moment your emotions take over, it'll force you to open the trade too early and eventually lead to a loss.
There is no need to trade 24/7, even though you can do so, on Forex. If you have any doubts, it's better to not trade at all. It'd be better to continue your analysis of the market to get the necessary skills that will make your trades more profitable.
Because trading is a very emotional activity, you have to prepare your strategy. It's necessary to follow the rules to protect you from yourself.
Avoid complicated strategies that require a lot of complicated techniques. They will only make you more confused and you'll miss a lot of good trading opportunities.
Leverage can make you a lot of profit on Forex, but it also brings a great potential risk to loose your capital. As a novice, never risk more than 1-2% of your margin account. In the case of a long-term trade, it'll provide you with a great profit and minimal risk of loosing your investments.
Learn to habitually analyse both of your trades, the successful once and the once you've lost. This will give you an idea what it was that made the trade successful and you'll be able to use it continually in the future.
It is true that these are the most basic rules for trading, but they are really necessary. If you enjoyed this book, make sure to leave us a comment below the article.
Author