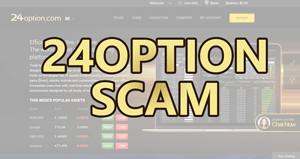 On the web, you can find a lot about 24option. It is no surprise, because according to the statistics, 24option is the 2nd largest binary options broker in the world (Banc de Binary is 1st) However in this review, we will show you all information combined, making a big list of reasons why 24option is a scam or not.
24option is a binary options broker established in 2010 with headquarters in Limassol, Cyprus. Some may think this is s red flag, but, in fact, that is completely normal for binary options brokers. Most of them have their headquarters in Cyprus, because of regulatory purposes.
Unortunately, 24Option has closed their binary options trading platform. From now on, you can only trade CFD and Forex at their website.
24option basic info
Official Website: www.24option.com
Headquarters: Limassol, Cyprus
Trading Platform: Tech Financials
2nd largest binary options broker
Why is 24option scam?
I've read many complaints against 24option, saying that they scam people, they never let you withdraw your earned money, or even they lie about giving you free money and such. Those are all invalid reasons. Read on to see what I mean.
People complain, that they were offered free money (24option bonus) but then when it came down to paying customers out, there were problems. Yes – this situation can occur. But only if a customer has accepted a bonus AND has not completed all procedures needed for the bonus to be withdrawn. In order to withdraw money including the bonus offered by 24options, a customer is required to:
Upload necessary documents to prove the customer is, in fact, the person they claim to be
Complete wagering requirements (40x the value of the bonus)
If any of the above is not met, the withdrawal of the bonus funds is not possible. If you have this kind of problems, please, contact the customer support.
Another reason why clients might complain and dislike 24option is: losing their money. Trading binary options simply involves risk. Everyone should know that. It is an investment, with which your money is at risk if you do not invest (make trades) wisely. If you do not know what you are doing, please, learn something about binary options first and try trading on a demo account. You can do that either with 24option, but also with our demo account: x Binary Options Demo.
24Option regulations
24Options are regulated by important regulatory authorities of the world including the FCA in the United Kingdom, CySEC, Financial Market Authority and more. The complete list of regulators, that have approved trading with 24options can be found below – all of these official authorities have said "24Option is NOT a scam," and gave them regulations.
Their platform (Tech Financials)
Tech Financials is a platform programmed by a third-party company that creates binary options trading platforms not only for Banc de Binary but also for other brokers. 24Option is, however, one of the few brokers that use this platform.
This means that trading program, where traders make all the trades is not programmed by the broker itself, but by a different company. In the company's intents is to make the platform as good as possible, in order to sell it to their clients (24option). If it was any sketchy, they would not buy it.
Author