What is Skrill (Moneybookers)?
Simply said, it's an internet wallet (e-wallet) such as PayPal. This service is free of charge and offers one of the fastest and safest ways of money handling. Skrill can be used for payments, shopping and money transfers online, but not only online. You can even use it to pay for food in your local grocery store.
This London based company has 36 million users worldwide and is one of the leading internet money provider service. On your Skrill account, you'll find a detailed overview of all your transactions, whether it's shopping, deposits, payments or money transfers. They also offer customer support, if you have any questions, feel free to contact them.
Why Skrill?
With Skrill, you can deposit money to binary options brokers (brokers that support Skrill)
Skrill offers an easy, fast and secure way of money handling
Skrill is regulated by British regulatory authority (which means that all your money is safe!)
One of the biggest advantages is that whenever someone sends you money, you'll have it in your account in the matter of seconds and then you can use it for shopping or anything you want.
Fees are minimal (only 1 % for incoming transactions – maximum 10€ – and 0% for outgoing payments)
Skrill is supported by a great amount of foreign stores
How does Skrill work?
First thing you need to do to be able to use digital wallet Skrill is to register and then, nothing stops you from shopping or transferring your money online. Isn't it easy?
Withdrawing money from Skrill
You withdraw your money from your Skrill account to your bank account with a wire transfer and then you can use it as you wish, i.e.: pay in stores or withdrawing from ATM.
Skrill also offers an option to use their Skrill prepaid card, which can be used as any other debit card, so there is no need to transfer your money to your bank account.
Fees
Account registration with Skrill is free.
Depositing to Skrill through bank transfer has no fees.
Deposits done by credit cards Visa, Mastercard have a fee of 1.9% from the deposited amount.
Withdrawal through bank transfer or credit card has a fee of around $ 5
Skrill mobile application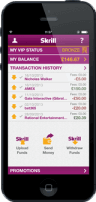 If you're using mobile phone with an operating system Android or iOS (iPhone), Skrill also offers a mobile application that can be used to receive or send money anytime and anywhere. A great advantage of this mobile application is also:
Access from anywhere and anytime
Easy and secure access to your Skrill account through a PIN code
Fast access to history of all your trades and transfers without the need to use a computer
Prepaid Skrill card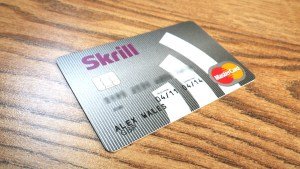 After registering for your Skrill account you can ask for a Skrill card. Prepaid Skrill card is available in the following currencies EUR, GBP, USD or PLN. Fee for your Skrill Prepaid MasterCard is 10 € that is going to be deducted from your Skrill account once a year.
Skrill card Advantages
Accepted by 35 million stores and 1,9 million ATMs worldwide
Easy-to-use
No obligations
Spend only the amount you've deposited – and you can deposit nonstop. 🙂
The best brokers that support Skrill
| Broker | Bonus | Min Deposit | Payout | Review | Open Account |
| --- | --- | --- | --- | --- | --- |
| | Only for Australia | $ 50 | Up to 100%* | Review | Trade Now! |
Author