Today I will show you how easy it is to read candle graphs, even though it may seem complicated.
What are candle graphs?


Surely we all know what a line graph looks like. It's just a simple line that goes up and down depending on the price movements. Candle graph looks differently, but it shows us the same thing, and even more. In addition to opening and closing price each time period, the candle graph shows us also the fluctuation of the price, meaning how much the price has risen or fell during the specified time period (called a timeframe). If you do not know what I am talking about, read on!
Candle graphs have become the most preferred choice among all modern day traders.
For each graph, we can choose so called timeframe, which is just an option of how large period of time one candle represents. The most common choices for binary options traders are 1 minute, 5 minutes, 15 minutes and 1 hour timeframes. When trading binary options we will probably use mostly the first three. Other than that, people also use 4 hour, 1 day, 1 week and a 1 month timeframes. That's not something you want to do when trading binary options, though.
Thus, if we are using the M5 (5 minute timeframe) and see 20 candles on the graph, each one representing 5 minutes, we can see all the price movements in the last 100 minutes.
How to read candle graphs?
Candles are divided into two types – BULLISH (rising) and BEARISH (falling). Therefore if we see a bullish candle, the price is
rising / increases and vice versa. The size of the candle shows us where the price started and where it evolved.
Each candle has two wicks. Wicks represent the fluctuation of price, meaning how high or low in the given timeframe the price has gotten, but did not stay there. The wicks are represented by a line, where as the candle body itself looks like a rectangle.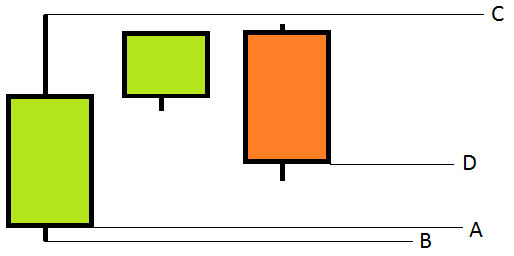 Graph of price development using an M5 timeframe.
A – Rate, where the price started
B– During the course of 5 minutes the rate has gotten this low
C– And also this high
D– After 15 minutes the rate was this
I hope I have explained everything simply, because it really is simple, but novice traders often seem to misunderstand. However, if you have any questions, do not hesitate to write me a comment below the article.
Author