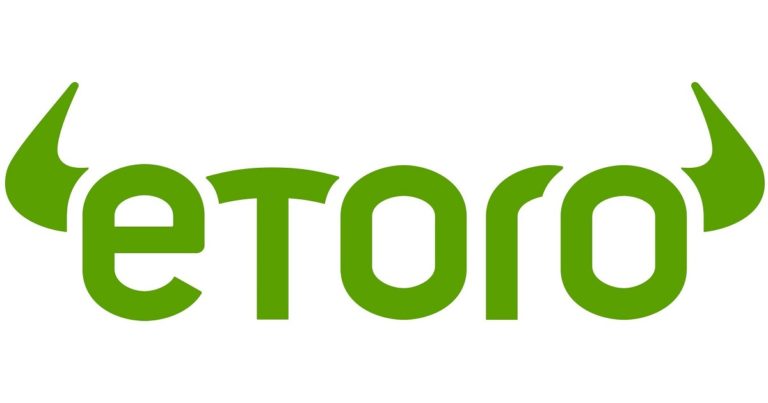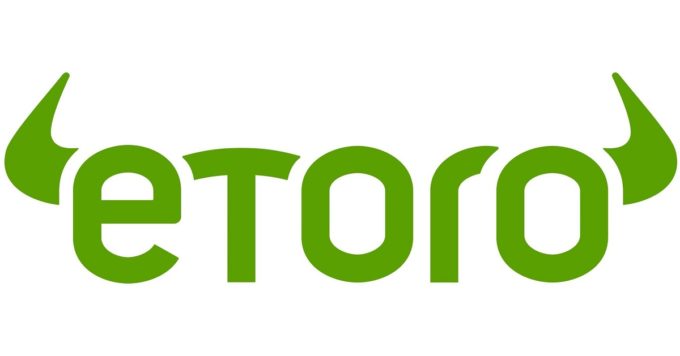 Have you ever seen a green logo in the shape of a bull's head?
If so, it is very likely that it's been the logo of the eToro broker, a platform that is becoming increasingly popular amongst traders all around the world. With an increasing interest in this broker, there has also been a number of questions regarding the registration process, as well as other things related to the broker.
This broker offers a very user-friendly platform, social trading (copying trades) and some other benefits that make it worthwhile to use for trading in financial markets.
If you're interested in basic things like fees, demo account, social trading and other things about this broker, be sure to read our eToro review.
However, because of the growing number of queries, we have decided to prepare a complete (but simple) guide for you to help you with the registration process.
| Broker | Bonus | Min Deposit | Payout | Review | Open Account |
| --- | --- | --- | --- | --- | --- |
| | Great social trading platform | 200 USD | * | Review | Trade Now! |
So, let's do it – step by step registration process with the eToro broker.
How to register with eToro?
Step 1: Go to the eToro broker website – you'll find the link to the page here – and click on the green Join now button. This button will redirect you to the first (short) registration form.
Step 2: Fill in the form with basic personal information, confirm your agreement with the terms and services and continue via the Create Account button. For faster registration, you can also use your Facebook profile or Google profile.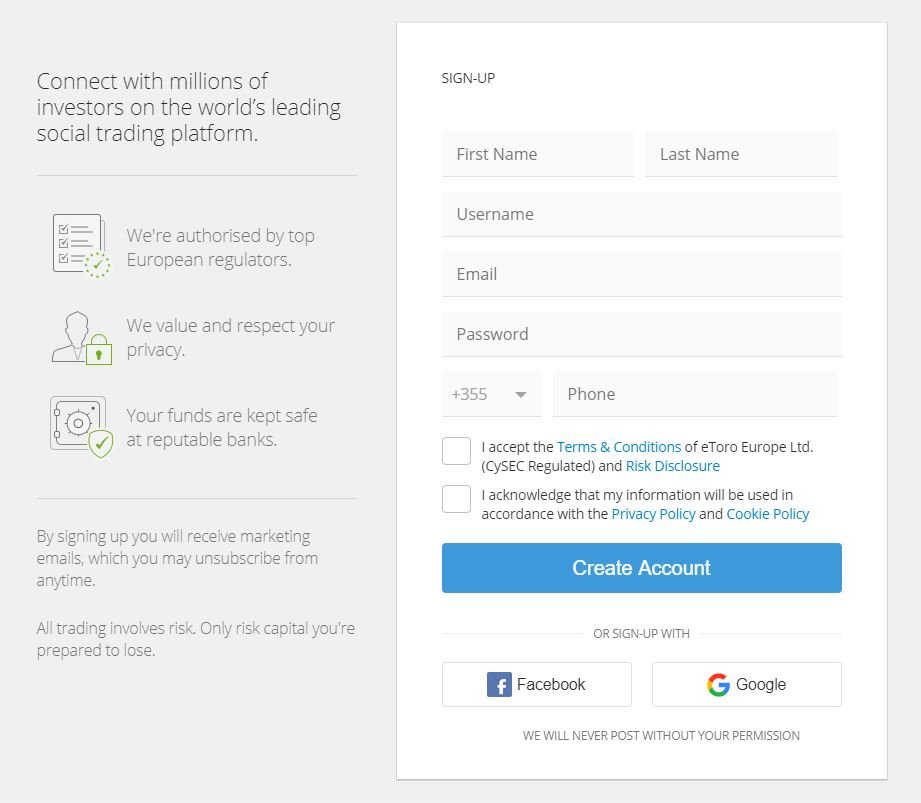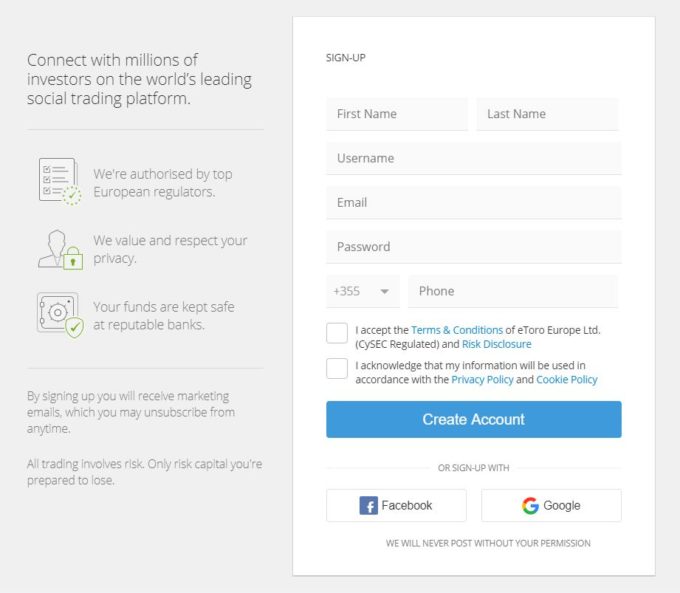 Step 3: If you have registered using the traditional method (via email account), you will receive an e-mail confirmation that you need to open and click on the attached link. This will verify that you have entered the correct e-mail address. You can sign in immediately after verifying your account.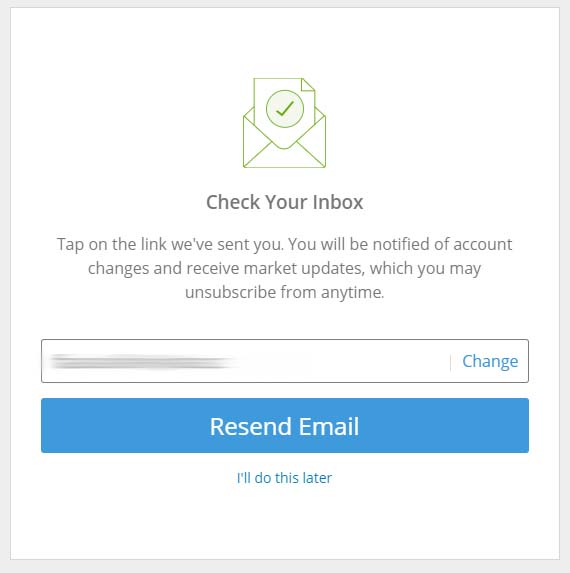 Step 4: After you have signed up in the eToro broker platform, you have two options to go with. Either you can deposit money directly into your trading account (but no more than 2000 EUR – your account is not yet completely completed and verified) or you can continue with the verifying and fill in the necessary information.
Once you have completed your profile completely, you will be doing so remove all transaction limits and other restrictions that made your account incomplete – see the picture below.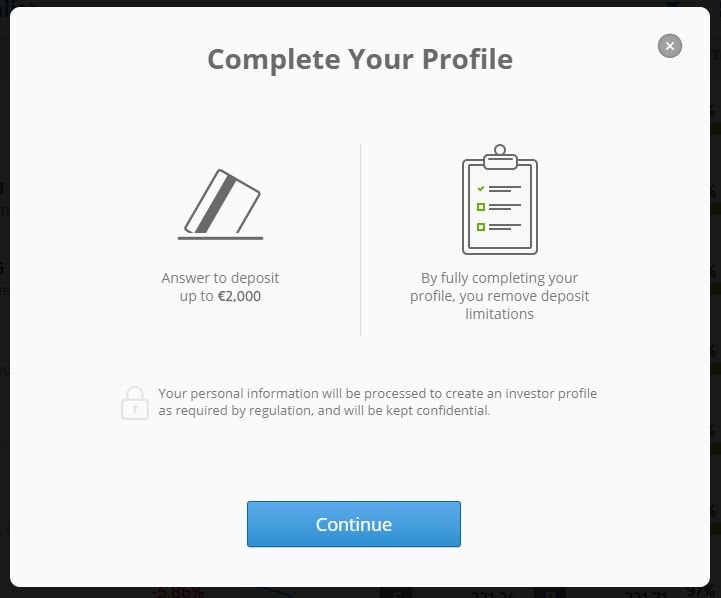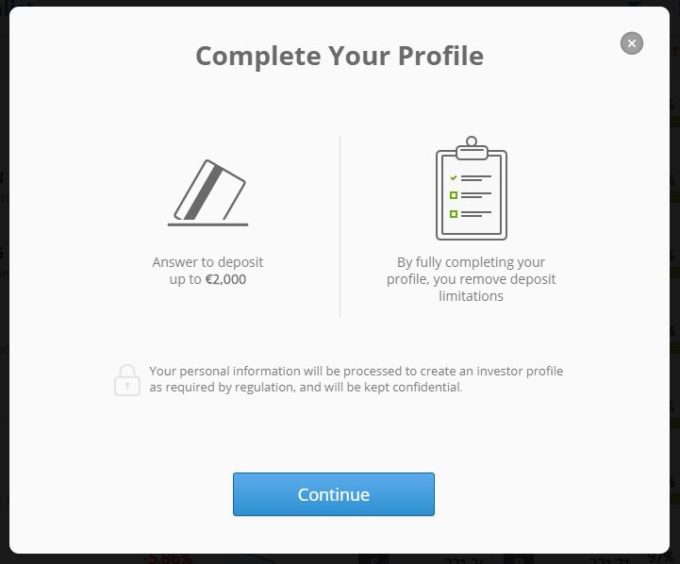 Our advice: Completely fill in the information in the profile first.
Continue with the Complete Profile button in the upper left corner. If you want to deposit some money right away, click the Deposit Funds button in the lower-left corner.
Or do none of the above and use the demo account that eToro offers for free.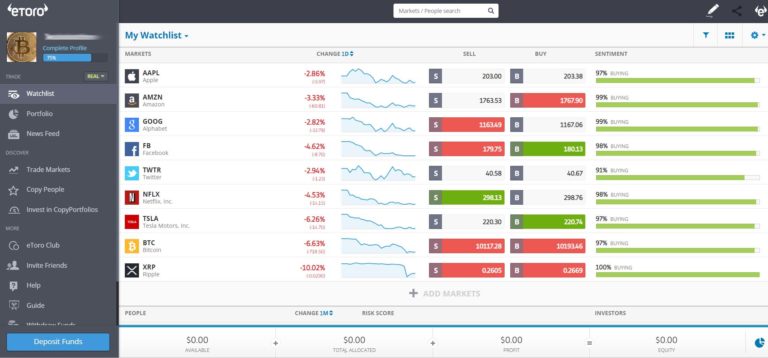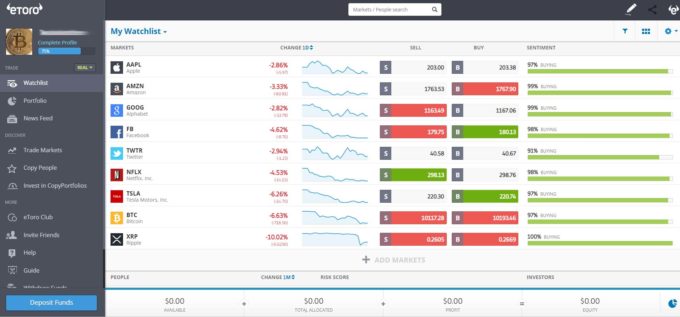 Step 5: If you've decided to completely fill in the information in your account first, you will face the 12 following steps of verification.
These are simple steps in which you fill in basic information, plus additional information about your trading goals, what assets you want to trade and so on. Have you never registered with any other forex or CFD broker? You don't have to worry! This is common practice with all regulated brokers. Any broker who wants to be regulated in some way (eToro EU is regulated by CySec) is obligated to ask these questions.
It starts with this step and a few couples after.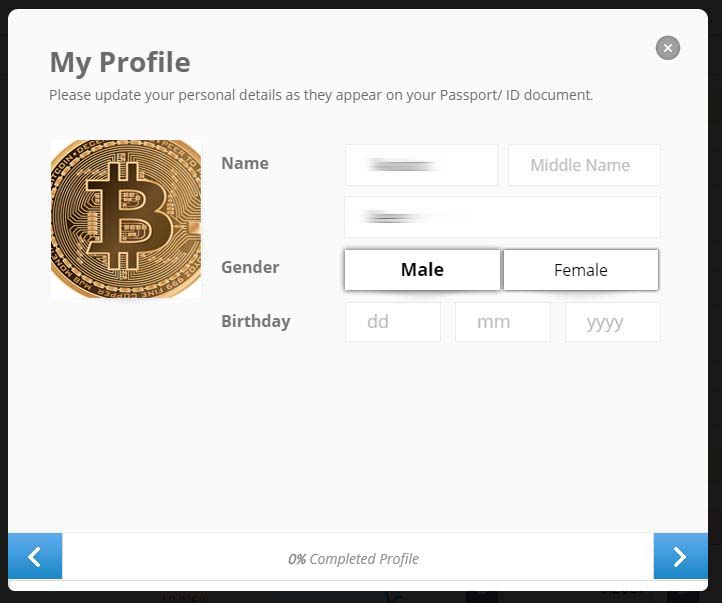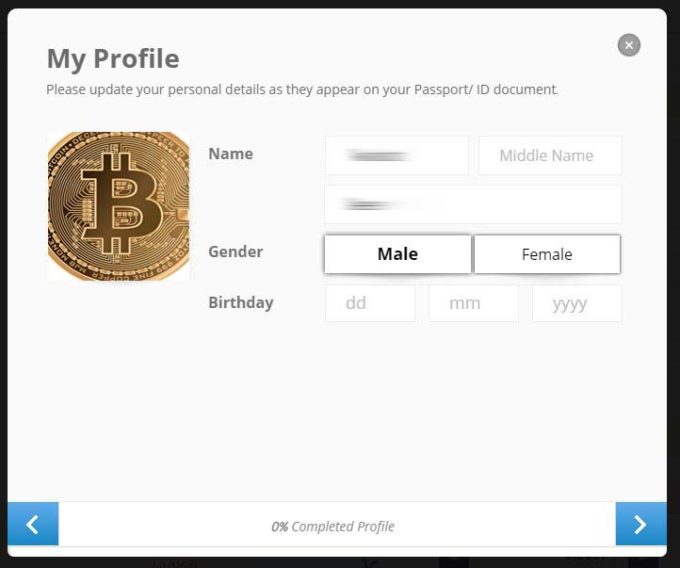 We know that the questionnaire is not short, but it is necessary to fill it out. Try to fill out the questionnaire as best as you can and make sure you understand the terms. In case the system finds you to be a "risky trader" and if you incorrectly answer some of the questions, your account might not be approved. Be careful!
TIP: Hasn't your account been approved? Just go back a few steps, check your answers and fix them. And if you need help with anything, let us know in the comments below. We will help you!
Step 6: After successfully completing your profile and the eToro broker questionnaire, a pop-up window will appear. Your account now has a fully completed profile. However, to unlock all features, you need to verify the profile by sending the respective documents – see next step.
Step 7: If you have already registered with a regulated Forex / CFD broker before, you know that trading account verification is not difficult or anything unusual or dangerous. Brokers have an obligation to verify accounts and unfortunately, nobody can avoid it. You will need four things to verify your account: phone verification (via SMS), verification of your address (bank statement, energy bill, etc. …), passport/identity document and tax identification number (= your personal identification number).
That is all – within a few minutes can have everything photographed and have the documents ready to be uploaded.
TIP: As for the document for address verification, a bank account statement that you can download from your internet banking within a few seconds or personally request it at your nearest bank branch can be used.
So, that's all you need to verify your account. Try to upload the documents in the requested format, otherwise, the platform will return them to you and ask you to send them again.
Step 8: If you have uploaded everything as you should have, your account will most likely be verified within a few hours and then you will have a 100% functional trading account. My account has been verified in about 3 hours, but it can take up to 3 business days as shown below. You will receive an e-mail confirming the verification result.
Registration is now over, congratulations!
So, what else?
Now you may be wondering how to proceed. Don't worry, you have several options. You can simply deposit funds into your account and start trading, or you can expand your knowledge with the help of the eToro Academy – it's up to you.
Note: Your deposit is still limited to EUR 2,000 for as long as your account is not fully verified (you will receive an e-mail confirmation).
eToro Demo Account
If you do not want to hurry things and you would rather wait before trading with actual money, you can still train your trading skills using the demo account (eToro calls it the virtual portfolio), in which you can get the feel of the whole platform. You can go to the demo account right after registration by clicking the Go to virtual portfolio button, or later via the button in the left corner, under your name.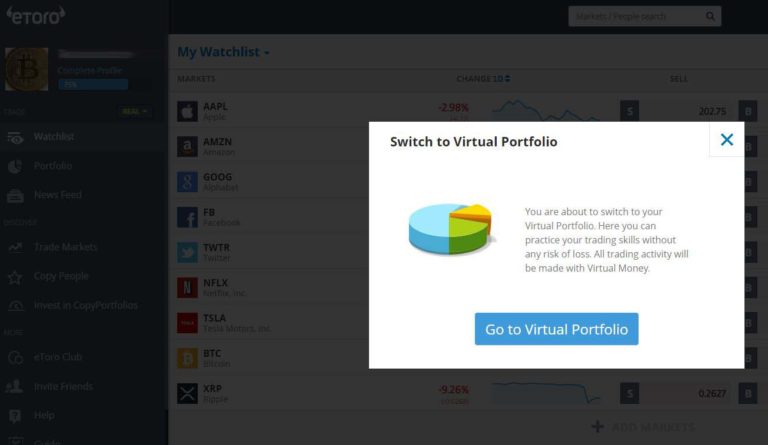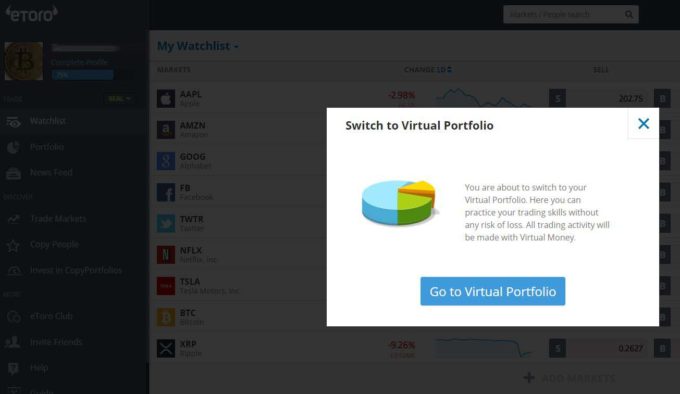 We personally recommend that you try the eToro demo account first. You will become familiar with the eToro platform, make a few trades, and get the feel of the platform.
eToro social trading (copy trading)
Social trading, or copying people's trades, is a feature that made this broker famous years ago. It is not, of course, the only broker to offer this feature, yet it is often mentioned when it comes to social trading. So, what exactly is it?
The principle is simple; you choose a trader from the eToro platform (also possible in MetaTrader 4) and you trade accordingly to his behavior. Specifically, you copy his entered trade orders. In the eToro platform, you will find social trading under the Copy people button.
How to choose the right trader to follow? Do you have any guarantees? We discussed this and even more about social trading in our article – Copy Trading: Easy profit or big risk?
If you're new to trading, you should definitely take your time. You need experience, time and especially knowledge. Doing something head-on might not pay off. If you want to improve your trading education, we recommend reading the following articles:
If you have any questions about the eToro broker or trading in general, please, let us know in the comments. Good luck.
Author