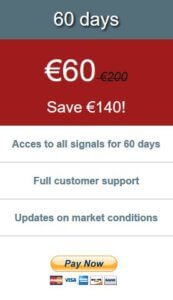 Dear Traders
A few days back we received a newsletter from our popular signal provider, The Real Signals. We learned a few interesting things I would like to share with you.
Real Signal's success rate in the recent month, June 2017, was impressive:  81 %. This is great! Only 21 signals per nearly a month (with 10 ITM in a row) but still great performance. It was the best monthly achievement (in terms of percentage success rate) in the provider's history ever.
People from the Real Signals do not take any vacation. In their effort to help you better enjoy your vacation they cut the price to mere  € 60 (€ 1 per day).
No matter how you decide to spend your vacation – with your friends at a swimming pool or trading binary option – I wish you, on behalf of the xBinOp team,  the best of luck! 🙂
Author