Because many people ask me, that they would like to trade not only currency pairs, but also Gold and other assets, but don't know how to view their graphs in Meta Trader 4, I thought that I could make another short article for our series on MT4. Today I will show you, how MT4 can show us graphs of assets such as indexes and commodities.
It's not at all difficult, so let's do it.
1) Opening The Market Panel

We have to get to the market panel. We do this either by pressing CTRL + M in the MT4, or by pressing this button 

.
2) Display All Symbols

Now right click into empty space in the panel and select show all symbols.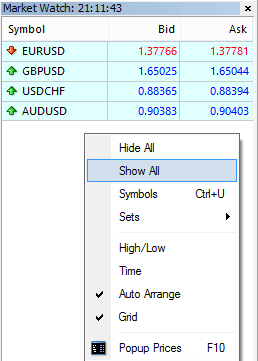 Now we see a lot of new symbols.
3) Opening The Chart Showing Our Desired Asset

Now click the right mouse button on our chosen symbol and choose Graph window. This will open a window with the chart of our chosen commodity / stock. Now we can use some of our templates, or indicators.
Author