I haven't posted an update about trading signals The Real Signals for a long time. I consider them to be really good signals. Lately, I have been quite busy, so I couldn't trade using these signals. Anyway, I found a while to at least see their success rate.
And as I can see now, I am really surprised.
Profits of the signals from the last week (21. 11. – 25. 11. 2016)
The profit of the signals over the past week was wonderful 83%, which meant 10 winning out of 13 trades. One of those trades ended at the money, which means neither profit nor loss.
Trading for example with broker IQ Option, we would have gained about 500 USD last week alone, counting with an average risk of 100 USD per one trade. That's really nice.
The Real Signals past success rate
This attractive and very profitable week was unfortunately flattened by the result of the previous week. The signals' success rate was just 57%. Anyway, I think that even that are quite nice results.
The results for the previous month (October) were 7.5% gain on our trading account. In September, it was a loss of 7.2% on our account, but a month earlier, in August, it was a fabulous profit of 64%. However, nothing equaled the results from May 2015, when the profit was the double of the trading account. More information you can see in the chart below.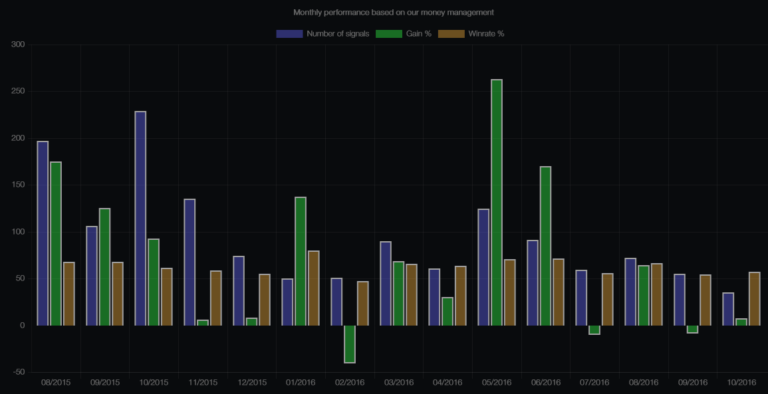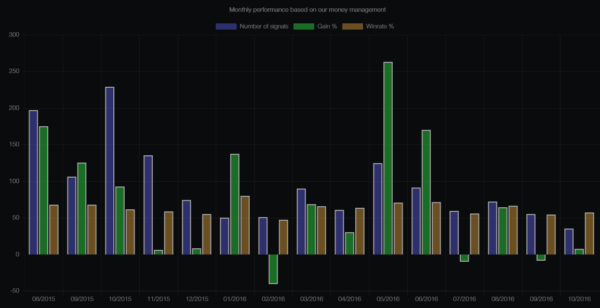 Author