Today's part of technical analysis series will be dedicated to pullbacks (throwbacks). We will talk about the definition of pullbacks, their differences, how to spot them and what are some practical information for a binary options trade, so let's begin.
What is pullback / throwback
It is the return of the price to the predefined line of support or resistance, which was already broken. After the return follows the classic example of support and resistance role switch. There is a slight difference between pullback and throwback, but I use them interchangeably and prefer term pullback. As you will see, the difference really is minor.
Pullback – Price breaks line of support from the top, for a short moment, returns back and transforms support into resistance from which it reverses.
Throwback – Price breaks line of resistance from the bottom, return and creates support from resistance.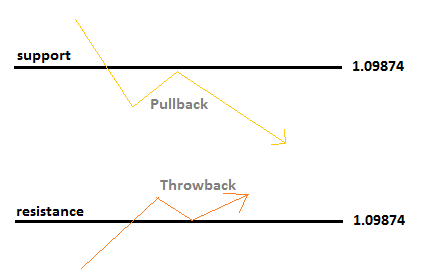 How to use pullback?
Pullback can be used, for example, in trading with the use of Fibonacci lines, or with various lines of support and resistance, which can be drawn either by us or by an indicator.
If the price has changed to downtrend after uptrend and is heading down now and we have Fibonacci lines drawn, we wait until price crosses one of them and performs a pullback, using which we can make a trade. On picture no. 2 you will find a great example of pullback usage and PUT option trade.
As you can see on picture no. 2, the price was rising. Afterwards, it progressed into a downtrend, so we could draw Fibonacci lines. Price reversed from the first line, therefore, there was no pullback, but after another reverse, a perfect opportunity for trade arose. As a homework, check picture no. 3 and try to find a pullback. Write me into comments section where it is located and why you would or would not trade it. I will check and evaluate all comments! 🙂
Author