Trading week (13. 6. – 17. 6 2016) was all about The Real Signals. The website admin decided to slightly modify its strategy and as a test, he let all the traders look at the signals, even those who haven't subscribed. You can read more below.
We will try to Introduce more strategies. This should reinforce our and ensure that even if one strategy goes south the other should cover up for it. The new strategies follow much more strict rules so we don't expect overall number of signals to change. Be aware that durations of all signals will not be the same. We will try to stick to 5min / 15min / 30min signals to make sure that almost any broker has the expiry times available.

We will be testing this new system the following week (from 13 to 17 of June) therefore we have decided to open our signals to anyone for free again during this period of time. Anyone will be able to access the "Live Signals" page without paying anything.

Source: The Real Signals News
This test week was great. After 14 profitable and one unprofitable signal, I decided to subscribe to the signals again, in order to try how it's all going and of course to inform you. Apparently, the unprofitable trade was only a mistake of the system. 93% success rate  is still a great result, look at the following chart.
As the signals administrator has said in the latest report – ("With such a great signals it may be tempting increase the trading amount. But no one knows how long will these great signals keep coming and that's why I recommend to stick with strict money management. ") – and so it happened.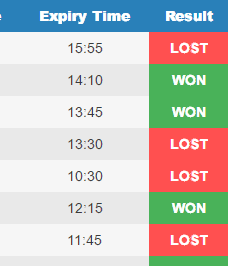 At the beginning of next week, a little shower of lost trades came. Out of 10 trades in total, only half was  successful.
However, do not judge these signals immediately. It is still a provider with long term  success rate of over 70%, which we all seek, or not?
I will continue trading signals from this provider and keep you informed.
Good luck!
Do you want to trade with The Real Signals?
> > Get a subscription to these signals with 20% discount < <
Author