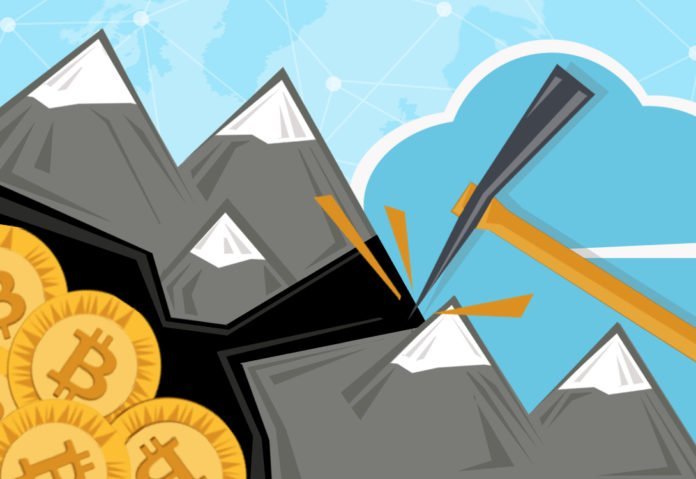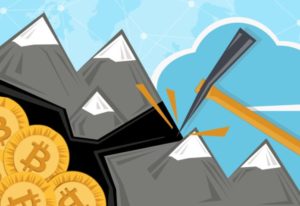 Mining of cryptocurrencies is a costly process. Especially if you consider the most valuable asset we have – time. The reimbursement is slow, profit uncertain.
If you have access to cheap electricity such as in Iceland or inner Mongolia, where electricity costs are among the lowest in the world, your profit will be much higher. You should pay a lot of attention when choosing the equipment and plan the entire operation. In short, mining cryptos is not a venture for everyone. But if you are one of those who would like to mine, do not worry. You don't have to buy hardware worth millions. For quite recently, there are services that will allow you to participate in mining called cloud mining.
The word "cloud" does not obviously mean a cloud on the sky but a technological cloud (i.e. a cloud of services in the communications network) a sort of hardware provided by a third party to meet our needs.
What is Cloud Mining?
The concept is simple. There are entities that provide the computing power of their excavators as a service, for which they are remunerated. Buyers are "paired" with sellers and receive computing power from them, that "mines for them".
In the specific case of HashFlare we simply buy a cryptocurrency contract that we are interested in. We choose the amount of computing power that interests us for a minimum of one year. After that, we pay and enjoy the regular income of selected coins at our portfolio address. So you don't have to keep any excavators at home. All this is arranged by a service provider who receives for the effort from us a monthly fee.
Advantages of cloud-mining
The difficulties described at the beginning are irrelevant when we have a CloudMining contract. Problems with planning, financing and implementation of the cryptocurrency mining operations are often accompanied by low availability of equipment. Graphics cards, on which a large part of cryptocurrencies are currently being mined, have become very expensive recently due to bitcoin boom. There is huge interest not sad information for video game enthusiasts, but also causes trouble for anyone who would like to start mining at the present time. In short, the entrance threshold is quite high.
We can't say, however, that it is unprofitable. If we have access to cheap electricity and we can find the equipment at a more favorable price than the market price, we can earn. Profit depends on how we carry out our venture. CloudMining should be treated as a deposit investment. We can calculate that, if the exchange rate of coins does not change, the money invested will be returned to us only after half of the contract. However, with the increasing market capitalization, it is very likely that thanks to the increase in the rate, our contract will bring profit earlier. In comparison, individual graphics cards or ASICs (Application Specific Integrated Circuits) can repay themselves in a few months if we have convenient conditions. Obviously, it involves more risk. Such dependence occurs in most financial games – profit is directly proportional to the risk. 
Investments similar to CloudMining – BitConnect
NOTE:
 In January 2018
BitConnect
officially ceased operations. Probably a financial pyramid and sophisticated 
fraud
. The following text is for informational purposes only.
BitConnect's objective was to create an independent financial network using its own cryptocurrency and cryptocurrency stock exchange. It offers a program of "loans" in which we invest bitcoin, and the system invests them on the stock market for us and generates profit. Sounds too good to be true? So it probably is. We are forced to choose an investment period, which ranges from 120 to 299 days. During this time, we cannot withdraw our money. Sounds disturbing? Even more, doubts will arise because more people are "gaining" who invite others to this system than the investors themselves. These are the features of the financial pyramid.
Paradoxically, the company wrote about how "dangerous" CloudMining is. But can we trust the subject through which thousands of people have lost their savings?
Let's explain how things are like in reality. The first difference is that with a service like HashFlare, we get a constant payment in the form of cryptocurrencies, for which we have a contract. They are decentralized and do not belong to any company, as in the case of BitConnect. Profit here is more realistic, both in the assumption and in the actual execution – people using HashFlare receive what they have earned.
Summary: CloudMining – Does it pay off?
To sum up, CloudMining is a much more trusted investment than Ponzi schemes such as BitConnect. Of course, every investment involves risk, but with CloudMining we are sure that we are the architects of our future and that we will not lose our money due to fraud. (Obviously unless we choose a scam broker).
Risks of cloud mining
As mentioned above, CloudMining also involves some risks such as:
Fixed-term contract. Most of the contracts offered by CloudMining companies are fixed-term contracts (for 1 year etc.) You pay for computing power one year ahead, no matter what happens in the meantime. So if you start with such a method of crypto-mining when one bitcoin costs USD 20 000 and, six months later you see the value of bitcoin fall to USD 5 000, your profit will shrink to 25% and (instead of earning some profit) you will have to compensate the loss.
Growing demands. Along with the changes in the rate of the coin, your profit from mining will be affected by the number of miners. If, in theory, the number of miners of specific crypto, let's say Dash, grows from 1000 to 2000 within a single day the reward for each miner will be a half.
Scam organizations. Unfortunately, scam companies pretending to mine crypto occur in the world of cloud mining, as well. They just grab annual fee from their clients and use it for paying out the rest of the users (…telling them that their remuneration comes from "mining").
Risk of "acts of God". Because the hardware used for mining cryptocurrencies is just physical machines working non-stop nobody can rule out the possibility of something going wrong. The company campus may burn down or be affected by water, theft or another disaster. If such a case it is the matter of how the company settles its obligations with its clients. Therefore, before you sign a contract it is advisable to ask about this alternative.
The fact that mining in the cloud is easier than the traditional way is true. Remember –  easier said than done. Before you start, you should thoroughly calculate and do research. You will see a lot of people discouraging you from this method. Anyway, the final decision is in your hands.
Author