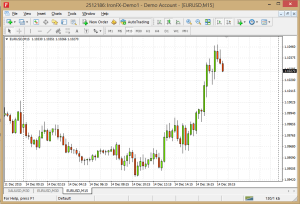 People keep asking me where they can download a truly functional program Meta Trader 4. Although spent some time on this issue in the previous parts of this series it will surely be useful to refresh this knowledge. Users who have already installed the MT4 may skip the following text.
However, if you have any problems with MT4 follow this guide.
1. Download the MT4 installation file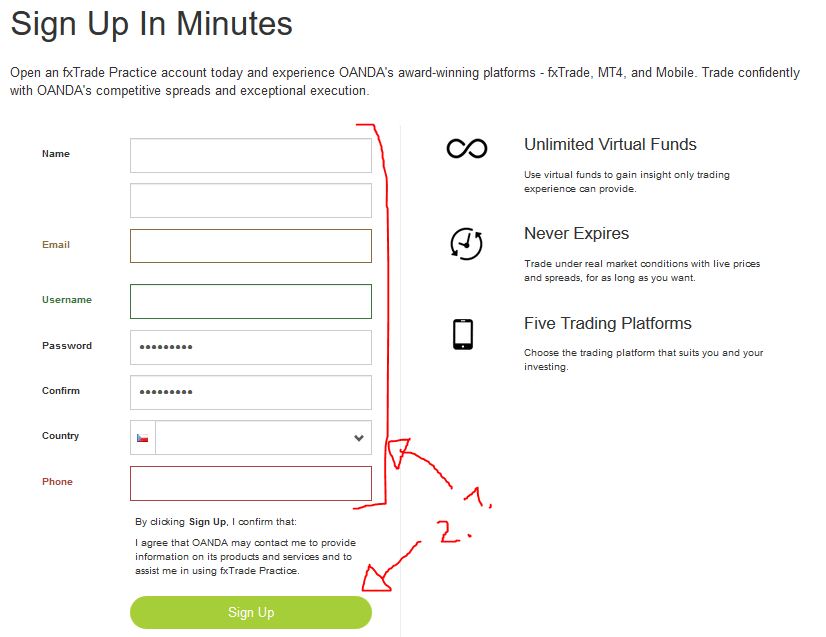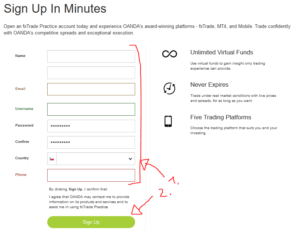 Meta Trader 4 is a program that downloads various information such as prices of shares, currency pairs etc. from the servers and displays it in the form of charts (graphs). This information is then  available to the user who can individually accommodate or adjust it. The program is offered for downloading by numerous web sites, mostly forex brokers.
My recommendation is that you download the program from the web site of a broker called Oanda.
Steps you should take to download the MT4 program from Oanda:
Click to open a demo account with Oanda ->here. (You can fill in hypothetical data and confirm)
Click onDownload MT4 which will be displayed (in the picture below) or here:  download oanda mt4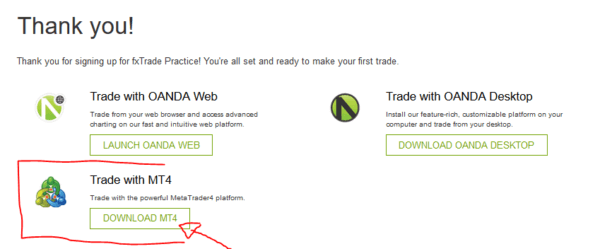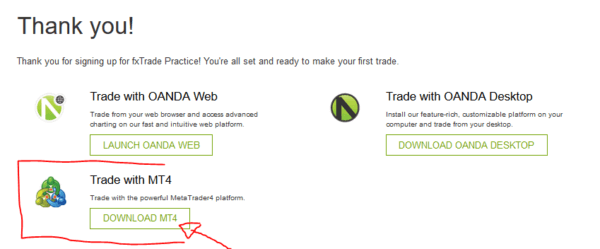 2. Install the downloaded file (MT4)
The program has been downloaded. Now you must install it. This means to click on the file you have just downloaded. (The layout is as follows:

)
The installation is an easy process requiring minimum interaction from the user, just a couple of clicks on the button "Next".
3. Sign in to the program
So, you have downloaded and started off the program. Great!
To be able to download data so that you can see the current price you must connect it to the server. In the right bottom corner you can see the icon:  

 . By connecting to the server the icon will disappear .
After the first activation you should see a connection table. If not, you should press (in the  left upper section) File -> Setup account.
Now, a table containing servers has been displayed. The best option is to choose a server with the lowest Ping time and select Next> Thanks to this feature your program will work faster.
Next, choose New demo account and fill in the following form. None of the data will be checked, so you can type total nonsense, such as "John Smith, Address 123, New York City"..
O.K. Completed!
4. You can start using the program
Now, all features should work correctly. Meta Trader 4 is ready to be used. I recommend that you read through our previous articles of our  Meta Trader 4 Show. It will help you understand the program and start using it more efficiently. 🙂
Would you like to download any strategy? You will import it in the program thanks to the following guide:  How to use indicators and templates for binary options trading.
Do you still have a problem? Don't hesitate to write us below in the comments section!
Author