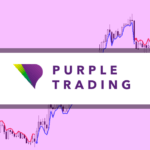 From time to time, I see an advertisement for an indicator called Purple strike. It is supposed to be a trend indicator, accurately showing changes in trends. For us, this is an ideal time to open a trade, isn't it?
I thought it might be a good idea to write a review of this indicator because – who knows – some of you may see it, too.
Does it make sense to use the purple strike indicator?  Isn't it just another nonsense scammy system? We'll talk about that.
How does the indicator work
Although created for Forex and CFD trading, I found the indicator beneficial also for the trading of binary options. I gave myself a few days to test it. The results are shown below.
Info:
After
downloading the indicator
and adding it to MT4, you will see the message "You can start up this indicator in Meta Trader 4 by
Purple Trading
only."
If you want to use or just test the indicator you must first download the MT4 platform by Purple Trading. The platform itself is free of charge. The company, however, anticipates that if you decide to trade live, you will use their own platform including an account opened with them.
The initial setup suggests that the change of color into blue should encourage the trader to open a LONG position (i.e. to buy). Turning into red should indicate the closing of the trade. So far, this is a theory.
It wouldn't be me if I didn't modify the strategy a bit. Obviously, I used fibo and IB lines from the BERSI Scalp strategy in the graph, using the purple strike indicator as a mere filter. This means that if there is a bounce from an automatically generated line or display of the BERSI Scalp arrow and the purple strike strategy in the same direction I will open a trade.
My results with Purple Strike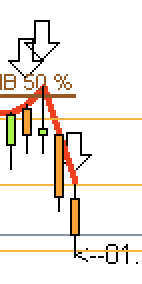 The result is not bad at all. After testing the strategy for a few days on a few trades, I cannot complain. It's true that I didn't use any more filters such as stochastic). What I tried was to simulate the behavior of a total novice i.e. who seeing a signal jumps headlong into the trade without thinking twice.
From time to time, you can see more than one signal in a row. With this indicator, it's fairly simple to filter the rest and, when necessary, to carry out a trade.
On the right, you can see the displaying of three signals after the bounce from the 50% weekly line. The purple strike indicator is red, signaling a solid downtrend.
Based on the above, I opened all three trades. Guess what happened?
I like this strategy and will be happy to continue working on it. If you find this theme interesting and would like to get more updates, guides and tips to explore the PURPLE STRIKE strategy share this article and write me your comments under this article! Thank you.
Pros of purple strike indicator
The strategy shows minimum false signals.
When it does change colour, the chances are a new long-term trend is starting
There is no frantic repainting every second
It never repaints on closed candlesticks.
It efficiently predicts trends.
When it signals a trend, it isn't affected by retracement.
It can often signal the whole trend, till the very end.
It can often identify a trend right from the beginning
The official video (see below) presents some advantages of this unique indicator highlighted and shown in a picture on the right.
My opinion on the above points is as follows: The "minimum false signals" is a nonsense. It sounds nice but makes no sense. Point two is the same. This phrase says nothing. Point 3 is fine but when used under the recommended setting (period of 5 minutes) it isn't not as it says.
The comment "It never repaints" is true. I myself have never seen any repainting. Hopefully, I haven't overlooked any. The next item about "When it signals a trend, it isn't affected by retracement" is false, too. If you use the basic recommended setting the indicator often gets confused by retracement. The next two items about a trend being identified from the very beginning or till the very end contradict each other confirming what was said in the previous sentence. But when applied to a longer period, I agree it's true.
Your experience
The above description is based on my personal experience with the strategy. What about you? Have you already seen any adverts promoting this trading method or, have you encountered the attached video?
All your comments and suggestions will be appreciated. And if you decide to test the strategy, let me know your results.
Author