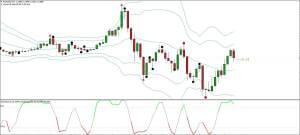 The GOD STRATEGY strategy is actually an improvement over the original point strategy. You can now get all indicators and a template at this website about free binary options strategies.
How improved GOD strategy works
This strategy works by forming black points above or below candles which give us the signal, that it is appropriate to enter the trade. Another important indicator is a Stochastic indicator which shows us whether the market is overbought or oversold, and of course, we have to follow the trend.
GOD strategy has been tried by a number of traders. Some of them did not know how to use this strategy, or have not tried multiple variations of how this strategy works, so instead they started spamming forums saying it is a fraudulent and nonfunctional strategy and so on. From my own experience, I can confirm that it is not a scam and it's a great strategy.
How to use this strategy for binary options
I recommend trading only according to the trend (if the moving average, or the middle bollinger band are increasing, place only PUT options and vice versa)
Stochastic indicator shows us, whether we should expect decline or growth
The best time to invest is when the price reaches either the highest point (green line) (PUT) or the lowest (red line) (CALL)
I personally open trades after seeing the ball and according to the Stochastic indicator development. First, I wait until a candle with a ball is formed and about 10 seconds before the end of the candle, I open a 5 minute trade. Sometimes it happens that the ball appear befores at the end of the candle, or at the beginning of the next candle, hence the need for an open MT4 and caution. Of course, keep your trading platform open so that the trades are entered as quickly as possible.
PLEASE DO NOT PAY ATTENTION TO ARROWS WITH THIS STRATEGY, THEY OFTEN SHOW US DIRECTIONS, BUT THE MARKET USUALLY DEVELOPS IN THE OPPOSITE DIRECTION.
In this strategy, there is still need to watch the announcement messages from www.forexfactory.com. Investments worked best on the EUR / USD, GBP / USD, AUD / USD and USD / CAD currency pairs.
I recommend to try the strategy beforehand on a demo account and play with expiration times and set up everything the way it will be most suitable for you. Brokers who offer a demo account are listed in the table below.
Broker
Bonus
Min Deposit
Payout
Review
Open Account



Only for Australia

$ 50
Up to 100%*
Review
Trade Now!



FREE DEMO ACCOUNT

$ 10
Up to 100 % (in case of correct prediction)!*
Review
Trade Now!



FREE DEMO AND LOW MIN DEPOSIT

$ 10
Up to 90 %!*
Review
Trade Now!
*in case of correct prediction
RISK WARNING: YOUR CAPITAL MIGHT BE AT RISK
GOD Strategy and its results
The author designed the strategy for an expiration time of 60 to 120 seconds but I and my colleague decided to try out expiration times 5, 10, 15 and 30 minutes, and then compare the performance of individual trades.
We traded both on a demo account and real accounts with Stockpair and Topoption. However, these brokers do not operate anymore. Since my colleague is a former analyst and stock market trader, he tried strategy sharply from the outset. I must admit that even I had no success with expiration times of 60-120 seconds lost about 15 trades out of 20.
The strategy worked for us best with the expiration times of 5 and 15 minutes. With this strategy, we a little more than $ 200 in a week, which is not bad. Unfortunately, you know that the market can sometimes be unpredictable and so it may happen, that a trade does not work out. The important thing is that generally, we are in black digits. Good luck, fellow traders!
Author