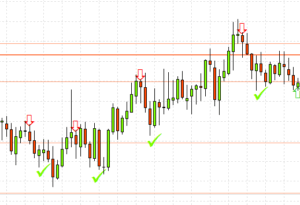 Most of you have surely seen this. Browsing across the internet you find a strategy (a trading pattern) generating various arrows, circles or shapes like this. Based on a few simple rules, you open a trade. Nothing difficult.
At the beginning, everything works OK. At the end (I assume) your results are far below your expectations. Am I right? Sure, all people who have experienced this situation know that I am.
The trick is in the fact that the vast majority of such systems can never work in the long run. If it was possible to trade based on a few simple calculations and indicators someone would have invented such an application a long time ago to do it for you.
⚠️ In fact, applications like this do exist. They do trades on behalf of you based on simple calculations (formulas). One of them is our well-known Binary Options Robot ✋ or
Brit Method
✋. However, they both contain a hitch – they don't work and in a couple of hours you are doomed
to lose all your money
!!!
How is it possible to trade with profit?
A crucial aspect  in all trading models is what is called "human factor". What is important is to FILTER all signals based on ever-changing support lines, resistance lines, trend lines etc. This will not do any software for you. Therefore, when developing a strategy, you cannot use all signals that appear. You must filter. This is why a strategy user manual (PDF format) was developed.
Remember to test all trading models first!
No matter what type of strategy or trading model you use, first of all, you have to do a rough test. This is why some brokers offer a demo account. In case the strategy doesn't work you will not lose a single cent. If it does work, you can start trading with real money right now.
You should conduct the test at least a week, ideally a month or more (if you are a conservative trader)  before going live.
What is a demo account?
Demo account is a type of trading account which does not contain any real money; you are not allowed to deposit or withdraw money from the account. All money set on the account is de facto  virtual money.

Thanks to this account you can perform trades to test how your strategy works. If it  doesn't you will not regret any losses. A click on a button and your money is back. Next, you can re-open your testing.
How to set up a demo account?
There are several ways to set up a demo account. One is to ask the broker or alternatively use an independent provider. More detailed explanation below:
Broker demo account ▶️
Some brokers offer a demo account right on their platform. It includes one major advantage: you can test all features and functions offered by the given platform. You can touch all the possibilities and test. Later on, when you go live, making trades with real money, nothing will surprise you.
This type of demo accounts is offered (for example) by a quality broker IQ Option and an Australia-based broker High Low. How to create a demo account with IQ Option? Guide here.
Read more about the brokers ✔️
On the other hand, demo account is also offered by an untrustworthy broker, binatex. I personally don't trust this demo account. The demo account may manipulate with the price to make you feel that given the growing profit you are good enough to start trading with real money. Using a regulated broker, you don't have to fear such practices.
Third party demo account
Along with the brokers, demo account is also offered by independent providers. There is also one advantage there. These brokers don't care whether you are a winner or loser. Therefore, you don't have to be afraid of any manipulation in your favour or disfavour, so the demo account as such is trustworthy.
The above mentioned account is offered at our website, too: Binary options demo account. Another pro is that you don't have to enter your contact details which prevents you from being annoyed by spam e-mails or calls.
On the other hand, you will "put your hand" on a platform of a broker with whom you are going to make real trades in the future. This could be to your detriment.
▶️▶️▶️ What do you think of it? Do you use demo accounts, too? Send me your comments and opinions (COMMENTS section)!
Author