The majority of us would have to work years and years to be able to buy a flat, house or car from our own pocket. However, our need to have our own place to live cannot wait. If we didn't have a flat or house our quality of life will go down and all the years living without having this property will never be returned to us.
That's why people reach for loans. Today, you can see loans on the portfolio of every bank – fiercely competing for their clients. Trying to keep up with the trend, the world of cryptocurrencies has recently begun to offer loans as well.
What is a "crypto-loan"?
Crypto-loan is a term that simply defines a loan in any cryptocurrency. The principle is the same as with a traditional loan. We agree with an entity, we take funds from it with the obligation to return them later with interests. The entity may then use the cryptocurrency for anything it wants – trading, purchase of goods or withdrawal from bitcoin ATM. The difference between a traditional loan and a crypto-loan is that cryptocurrencies bitcoin, ether is involved, not fiat money, such as USD, euro etc.
However, there are some more differences between traditional and crypto-leans, namely
The highest risk remains with the entity providing the loan, including risk related to frequent fluctuations of the cryptocurrency rate.
The process of taking or giving a loan is easier than traditionally. Just a few clicks and we can open an account on any service platform that supports such services
Most platforms offering such services in the world of Internet and blockchain technology have embedded software automatically collecting funds from people you borrow them and regulates the "technical" aspects of the loan.
As you can see, these are quite positive differences. Additionally, the one who borrows can enjoy all the benefits of using cryptocurrencies, such as decentralization, increased privacy and anonymity, and the integrity of the blockchain's "ledger". What about if you want to lend you Cryptocurrencies to someone else?
Is it possible to earn money thanks to crypto-loans?
In every corner of the crypto-world, there is a chance for profit. But we must never forget that it also involves a certain risk and that some promising projects may turn out to be fraud.
Nevertheless, it is possible to earn on crypto-loans. All that you have to do is to get in touch with someone who is seeking a loan. This can be done for instance via the BitBonds platform. You can try it out with Cryptocurrencies from USD 5 to join other people sharing a loan.
BitBond services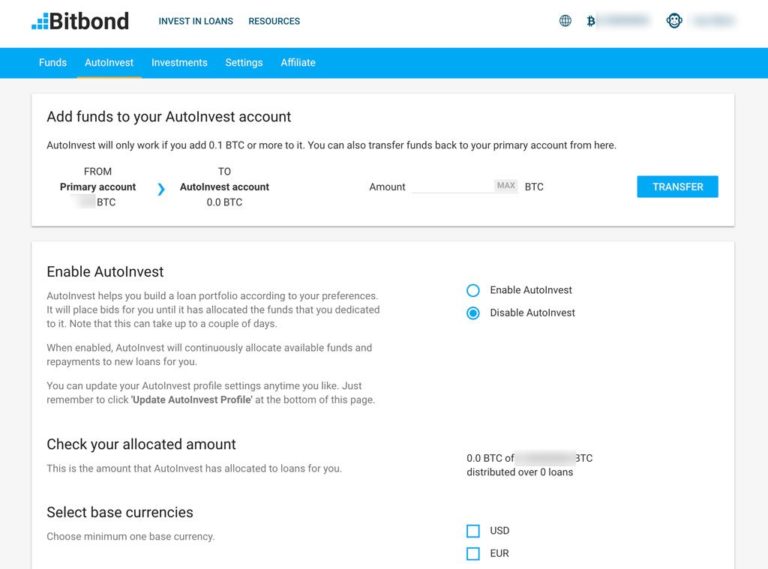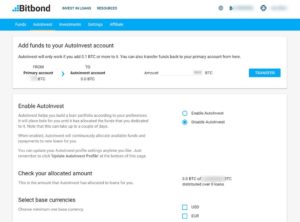 BitBond claims it's able to offer a 12-26% return on a crypto-currency investment per year, which is quite a lot, especially when comparing with traditional investment instruments.
BitBond is one of the pioneers of this type of service. The company is registered in Germany and offers loans all over the world, also having the option of automating them. The creditworthiness of the clients valued by the company based on a machine algorithm that checks our payments on sites such as PayPal or Amazon. The portfolio includes several types of loans – namely for 6 weeks, 3 months, 6 months and one year. Installments are paid on a monthly basis.
The minimum loan value is set at 0.01 BTC. Each borrower can have up to one loan at a time. Interest rates are determined on the basis of creditworthiness. All prices (services) are displayed as VAT exclusive under German law.
Is crypto-loaning safe?
Certainly, you ask a question of whether the crypto-loans business is safe. What if the one to whom I send my money takes it and disappears? Frankly speaking, this was one of the priorities I checked first.
BitBond states on its website that in the case of delay with paying the installments the company contacts a debt-collection agency in the country of residence (stay) specified by the debtor. Therefore, I believe that the safety of the crypto-loaning business is the same as lending/borrowing of money in general such as with Zonky loan.
Crypto loans and "margin funding" on Bitfinex
The crypto exchanges such as Bitfinex offer on their websites a service called "margin funding", where we deposit money on a special account to be used by other exchange participants for their own trading (as long as they want to trade with leverage).
The "margin funding" service is in general far less risky but brings a smaller profit. The services differ in the mechanism of operation but they have one thing in common – the possibility of automating our investment, thanks to which we put less effort into crypto-loaning.
Next, to Bitfinex, this type of loans is being offered by Poloniex under the name of "margin lending".
To be allowed to use crypto-loans on Poloniex, you must register and have your identity confirmed – have your profile approved – by sending photos of your identity pass. After that, you must download a photo of your face to be used as evidence that the documents are yours.
TIP: After having your account confirmed, we recommend you immediately switch on the 2FA authentication to increase the safety of your trading account.
To start the process all that you have to do is to transfer the given crypto to your "lending balance" as a normal deposit. Next, you do some small exercise to correctly set up the loans. But don't worry. Soon we will give you a detailed guide with instructions for crypto-loans on  Poloniex and Bitfinex.
Is margin funding safe?
In the official statement, Bitfinex claims that the chances of not returning borrowed capital is nearly zero and that it has never happened since the foundation of the exchange.
If the price would change so dramatically that the majority of all margin positions would drop below zero, losses eventually will be shared with margin funding providers. This has never happened in the existence of our platform, but in theory, it could happen.
Providing liquidity in margin funding is not risk-free; however, interest rates are typically far higher than you achievable at through a typical savings account. In the end, it's up to the user to weigh this risk and gains. Source: BitFinex
Author