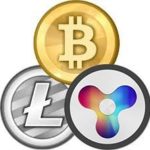 Cryptocurrencies are often referred to as being revolutionary, different and unique. These strong words put off many traders since they fear that their current trading strategies may no longer work. Is it really the case? We've examined it in practice.
In theory, cryptocurrency is a currency as any other currency. So, one may expect that the rules should be identical with those used for other currencies with some specific features. Anyway, each currency has its specific features. So, how this is in reality?
Technical analysis
Technical analysis is the most popular type of all analyses and strategies among retail traders. Can we apply it in the same style we know from cryptocurrencies? Of course, we can.  On the chart showing a day timeframe, I spotted a point that caught my attention – like from a school book. Take a look at it!
Divergence itself on RSI is seen as a strong trading signal. Someone may argue that this divergence is too weak and he would be right. Anyway, it is still correct divergence. More, it's been confirmed on MACD and the trading signal would also be visible to a trader using a clean price chart because what we can see here is a pivot point. It's really unusual to have three such strong technical indicators in a single place.
And what about the next development of the chart? A downward trend, no surprise.
On a chart showing a 4-hour timeframe, I was suddenly attracted by a 1-2-3 gap strategy, which speculates on filling out the gap between the high and the low of the first and the third candles (of an upward formation) or the low and the high of the downward formation.
It's evident that technical analysis is universal, which applies to cryptocurrencies, too (in our case to the above bitcoin). If your forex strategy relies on technical analysis you don't have to worry. Or, you can find inspiration from the above examples. However, always do a back-test first.
Fundamental analysis
Those who guess that the fundamental analysis will be successful or offers the same potential as the fundamental analysis for euro, USD or CZK are right. Cryptocurrencies have some specific features but what you are interested in is not the nationality and the central bank but the availability of using the crypto for payments, its security, and technical background, the developer team, origin, distribution etc.
Most cryptocurrencies are controlled by the users themselves which does not rule out the existence of a system suffering inflation and other such things. In general, what you focus on when using fundamental analysis is the same type of formations. In several cases, you have to find an alternative, which is still possible (instead of watching central bank regulations you concentrate on the regulation of mining etc.). It is not as easy as with the technical analysis.
To give you a hint – the willingness to use particular crypto, the willingness to mine it (create, enable transactions…) are indicators you should watch in the first place.  Concentrate on the very mechanics and safety (security) of the cryptocurrency. The robustness of the cryptocurrency and its security system are equally important.
Technical and fundamental analyses can be used for cryptocurrency trading. There is no big difference between them. If you are a forex trader, hey why not! If you are a novice in this field try out strategies you normally use for commodities or shares. The logic should work, what you will have to do is to adjust take profit, stop loss etc. Beginners in trading should test their techniques on a forex demo account and some of the technical strategies referred to in the article/s.
Author