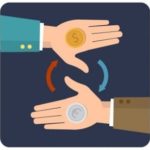 Cryptocurrencies have recently become a hot topic. You certainly know this. Suddenly, everybody would like to trade cryptos or at least buy a bitcoin or part of it.
There is still a lot of people who believe that to get a bitcoin one must be a criminal, hacker, IT geek or at least a sheer lunatic. No way, this is not true. The process of buying bitcoin is an extremely easy one. In this article, you will learn how to do it. Finally, you will be offered an opportunity to win free bitcoin worth 10 USD.
Let's go ahead…!
Choosing the Crypto exchange
There are plenty of places where you can buy bitcoin and other cryptocurrencies. As you may know a Czech-based ConMate, and a US-based CoinBase. In this article, we will talk about the latter, CoinBase.
Step 1: Crean ating account
Step number one includes the creation of a new customer account with an exchange. To register click here. Fill in the introductory form (first name, surname, e-mail, and password) and press O.K. Be careful about the correct combination of characters in the password (capital and small letters, digits and some special characters such as the question mark).
Step 2: Verifying account
To prove your identity you must have your newly created account verified. Therefore, go to your e-mail and click on the link to confirm your registration.
After clicking on the link, you will be prompted to enter your phone number. This number will be used for sending you SMS and your PIN to log in.
Next step is to take a photo of your ID card. Having a camera on your PC makes things easier. It only takes a minute. Otherwise, you must use your smartphone. Throughout the process, you will be more or less intuitively navigated by CoinBase.
Simply click on Verify your identity > Photo ID > Webcam or Mobile (…as you prefer) > Hold the front and back of your ID card facing the camera and, you're done.
Step 3.: Buying cryptocurrency
So far, so good. Now, you should go to Buy/Sell. Fill in the details of your payment card and confirm. Now you can start buying your first  crypto!
I assume that you will start with bitcoin. First thing to do is to type, let's say €100, in the "Amount" box, press Buy bitcoin instantly and confirm.
The money will be deducted from your card instantly and, at the same speed, the bitcoin equivalent will be added to your coinbase account.
Promised bonus: Free bitcoin worth USD 10 
At the beginning, I promised to enable you to win free bitcoins. The process is very simple. Use any link from our website (like the one here GET BONUS AT COINBASE) to register at coinbase.
Next, follow the steps mentioned above and buy cryptocurrencies worth at least one hundred (USD or euro) . Additional portion of cryptos worth USD 10 will arrive at your account automatically. Enjoy it!
PS: If instead of using your payment card, you wish to have your money transferred to an account I recommend  CoinMate. 
Open your account with CoinBase to buy your first cryptocurrency!
| Broker | Bonus | Min Deposit | Payout | Review | Open Account |
| --- | --- | --- | --- | --- | --- |
| USA Allowed | $10 BONUS | $ 100 | * | Review | Trade Now! |
More details about crypto trading
Author