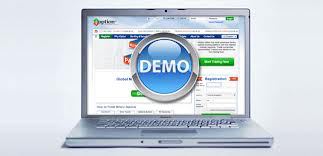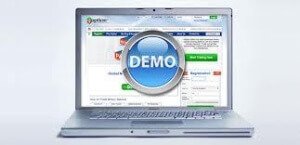 Binary options demo account is a great way to try everything out. You simply trade with money just as you would with a real account, but with no risk – the money is only virtual. You can find out whether your strategy works – whether your trades do or don't end up in-money without losing a single cent. Another reason to try a demo mode is simply to try how everything works, how a certain platform of a certain broker behaves and works or how fast the trades are opened.
Many brokers offer demo account, if you ask for it. Most of them thoughare subject to a deposit to your trading account. This money  can be withdrawn back from the broker into your bank account or credit card right after getting the demo and thus the deposit is only a formality.
Brokers offering demo accounts

Broker
Bonus
Min Deposit
Payout
Review
Open Account



FREE DEMO ACCOUNT

$ 10
Up to 100 % (in case of correct prediction)!*
Review
Trade Now!
*in case of correct prediction
RISK WARNING: YOUR CAPITAL MIGHT BE AT RISK
Then we have demo accounts completely for free without the need to deposit anything, i.e.: here: binary options demo. These platforms are often different from those brokers you want to trade with, but it's enough if your wish is to test a strategy or for novice traders to try how everything works.
A disadvantage of the free demo modes is that you never know what the operator will do with your email address or other information that he requires from you. He could sell your email and you could be a target of a spam or scammy messages. Maybe you don't mind or won't even realize it. Email providers usually delete the spam faster than it gets in your mailbox.
More about demo accounts with brokers
Author