Alert:
This article is not relevant anymore. On November 4th 2017, the broker Stockpair has been closed. Please, choose a different broker from our
Brokers Section
. Thank you.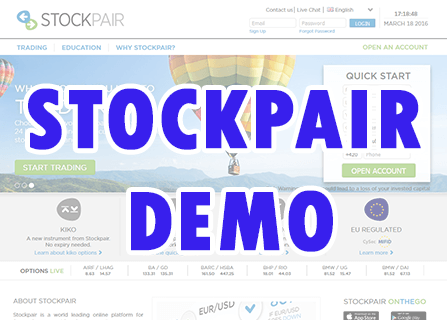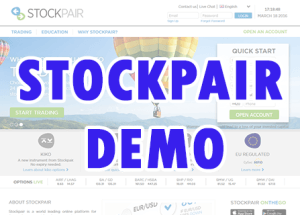 A demo account in the binary options trading world is very important for every trader. Even the best traders trade, from time to time, on a demo account. "Why?" you might be asking yourself. Well, you'll find out in this article.
A wise man once said: "You need 10 000 hours of doing a job, in order to become good at the job."
Demo account for binary options
And trading binary options is no different. I can tell you right now, that trading itself, be it forex or binary options needs to be practiced. Your strategy needs to be perfect, your money management needs to work well with your trading psychology and so on.
And what is a good way to practice trading without spending any money? Trading with fake virtual money. This simply means creating a demo account with which you can trade and not spend a single dollar or pound. And there are two ways of how to start trading on a demo mode.
How to get a demo account with stockpair
First and free method

: Open the demo account freely accessible on our website here: x Binary Options Demo. It's free and requires no registration whatsoever, but it has its disadvantages as well. There's a not so good range of expiration times and a limited number of trading assets available

Second, more reliable method

: Open a real account with Stockpair, deposit a minimum of $500 and wait for your account manager to contact you. They should give you a call within minutes to see if you need any help. Tell him to open you a free demo account on their website so you can practice trading. They will be more than happy to help you with that.

They will create a whole new trading account for you with $100.000 to trade with as you please.

As we said above, there are two ways of getting a demo account. One of them is free, one is not. If you choose to do the paid method – you need to register with stockpair, deposit your money and either wait for your account manager to contact you or contact the customer support on chat by yourself.
However, once you get approved for your demo account, nothing stops you from withdrawing the funds you deposited immediately which, in fact, makes this a free method also.
More information about stockpair
Author